After Sexual Assault Scandal, Spain Players 'Forced' To Show Up For National Team Duty
Spain's women's national team players are facing sanctions if they don't show up after being called up despite stating numerous times that they are on strike.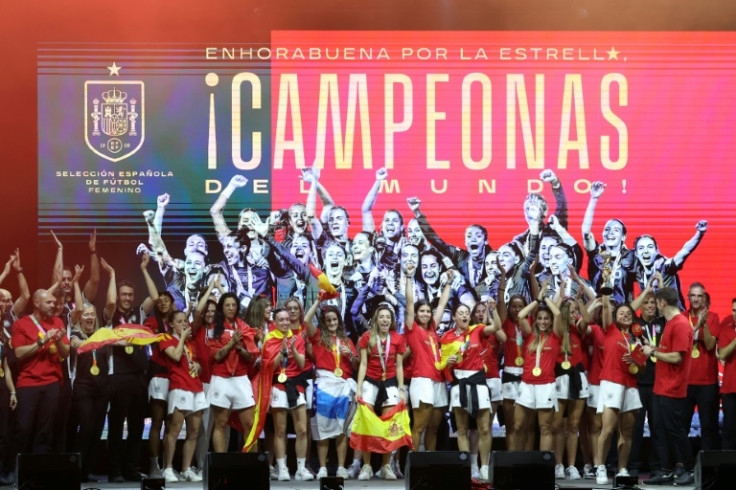 Members of Spain's women's national team squad have been "forced" to show up to their training camp after being "threatened" with sanctions due to their ongoing strike. It may be remembered that players have declared a boycott against the national team in the wake of the sexual assault scandal ignited by former Royal Spanish Football Federation (RFEF) president Luis Rubiales' unsolicited kiss on forward Jenni Hermoso last month.
Despite reiterating their intention to continue their strike, the players who were called up by new manager Montse Tome for the upcoming Nations League matches are all expected to turn up. It is still unclear if they will actually play the matches against Sweden on Friday and Switzerland on Tuesday, but all 23 players are expected to meet up at the training camp in Valencia by Tuesday night. Twenty of those players are part of the group that signed the letter announcing the strike on Friday.
The players are not happy to be forced to show up
On Tuesday, six players based in the capital city of Madrid arrived at the Alameda Barajas Hotel before embarking on a trip to Valencia to link up with the rest of the squad. They are expected to attend a training camp before flying to Sweden on Thursday ahead of their Nations League fixture.
Five players from Real Madrid were part of the travelling party, including World Cup final goal scorer Olga Carmona, Misa Rodriguez, Oihane Hernandez, Teresa Abelleira and Athenea del Castillo. They were joined by Atletico Madrid forward Eva Navarro. All of the players except for Del Castillo signed the statement released on Friday which confirmed the players' intention to continue their strike.
Barcelona players were also issued train tickets to head to Valencia, and they will all be travelling including star player Alexia Putellas. They have all been vocal about not wanting to be there both via the aforementioned statement and in direct conversations with reporters who have managed to catch up with them while in transit.
Despite the supposed strike, the players are all showing up to international duty after being forced via possible sanctions. This was confirmed by Barcelona player Mapi Leon, who told reporters: "We have to talk long and hard about if we are coming to a safe place or not when we have been forced to come. We have been forced to come. But if they want to sanction us [for staying away], then we have to come."
What kind of sanctions could the players face?
Even though the players have declared a strike, they are not protected by law and are reportedly facing hefty fines and may even be banned from playing in the national team for lengthy periods. Not only that, the bans may be extended to their clubs as well, which means even their livelihood and careers could be permanently damaged.
The head of Spain's national sports agency, Victor Francos, has confirmed to reporters that the players will face legal repercussions if they insist on boycotting the national team. Needless to say, the women have been left no choice but to answer the call-up or else risk destroying their footballing careers.
Unfortunately, the controversy comes at the heels of the squad's Women's World Cup victory, something that should have been the best period of their lives. Instead, they are at a crossroads and are faced with choices that might prematurely end their professional careers.
The government is keen to see the team qualify for the Paris Olympics as well as find glory in the inaugural Nations League. However, it is uncertain if the players will even play against Sweden on Friday.
Changes need to happen quickly
Meetings are reportedly set to take place between player representatives and members of the RFEF and the Spanish government. A spokeswoman for the government said, as quoted by the BBC: "We want there to be changes, for them to be quick, for the confidence of the players to be restored and, most importantly, what we want is to see them play and see them win."
The RFEF has already sacked Luis Rubiales and equally controversial manager Jorge Vidal. New manager Montse Tome has taken over, but being Vidal's former assistant, it is said that her close relationship with Rubiales is still causing an issue.
In their statement, the players said that they do not feel the changes have been enough and that they do not wish to play until they are assured of a safe environment.
Another issue is how Tome left Hermoso out of the squad, claiming to have done it for the player's protection. However, it is being seen more as a punishment, with Hermoso taking to social media to ask: "Protect me from what? And from whom?"
© Copyright IBTimes 2023. All rights reserved.