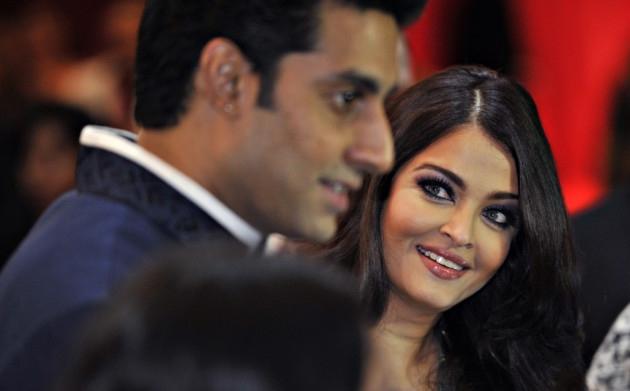 Bollywood actress Aishwarya Rai Bachchan and her husband, Abhishek Bachchan, may be starring together once again, in a remake of Shekhar Kapoor's 1983 film Masoom. The pair last acted together in Raavan (2010), directed by South Indian director Mani Ratnam.
The rumour mills have been kept busy in recent weeks, with considerable speculation over the former Miss World's return to the silver screen. The 39-year-old is on a break after giving birth to her first child, daughter Aaradhya Bachchan in November 2011.
A report by Indian newspaper Daily News Analysis (DNA) says re-make rights for the film (the original cast starred legendary actors Naseeruddin Shah and Shabana Azmi) have been bought by singer and music director Himesh Reshammiya and the Bachchans have agreed to play the lead roles.
"Now the details are being worked out," DNA quoted a source as saying.
Kapoor's Masoom (The Innocent) was the story of the emotional trauma a married couple goes through, when the wife discovers her husband has a love child. The re-make is to be directed by Bedobrato Pain, whose last film, Chittagong, received critical acclaim.
"It is still too early to comment on it. But yes, I am planning to direct a Hindi film, which is a remake of Masoom. Indian society has changed drastically since Masoom was made and it is my challenge to portray an eternal love story in a new social environment," Pain told The Times of India.
Meanwhile, unconfirmed reports from last month also linked Aishwarya with Karan Malhotra's Shuddi (Purity/Purification), alongside Hrithik Roshan.
Aishwarya has refused to comment on speculation so far, insisting she will make a formal announcement only after signing a contract, with whoever it may be. The actress also hit out at use of the word "comeback", saying she never retired or stepped away from her career.
"I didn't go anywhere so how will I make a comeback. Somehow I do not understand the word. I have just stayed away [from] films. Once I sign a film, a formal announcement will be made."