Details of Alcatel's upcoming offerings — OneTouch Idol 4 and Idol 4S — most likely scheduled for a MWC 2016 launch, were accidentally leaked by the manufacturer itself on the company's support pages. Even though the pages have now been taken down, they revealed almost all of the specs for both the anticipated devices.
We managed to take a look at some of the specifications and have the details for you:
OneTouch Idol 4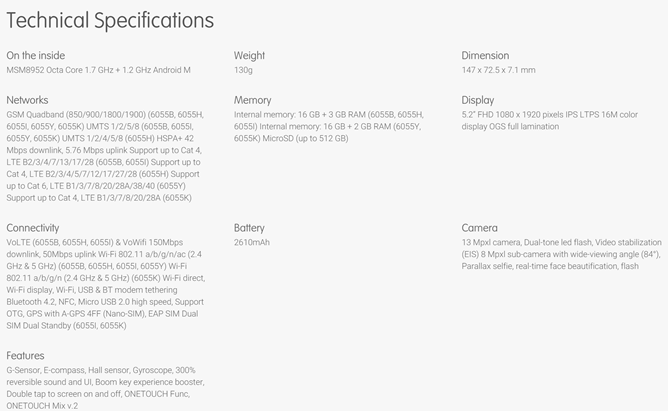 The Idol 4 will be the smaller of the two models and will come with a 5.2-inch display running at a resolution of 1080 by 1920 pixels. The specs list shows Alcatel has replaced the earlier entry-level Snapdragon 410 chipset with the more powerful octa-core Snapdragon 617 SoC.
The list shows two different RAM capacities with one listed as 2GB RAM having a limited storage capacity of 16 GB and the other a 3GB RAM having a 16GB capacity in internal memory but with an expandable memory slot. This signals that two variants of the same model may be available.
The device will also feature a 13MP rear camera along with an 8MP front camera. At 130g the device is slated to be lighter than the Idol 4S and will pack a 2,610mAh battery.
OneTouch Idol 4S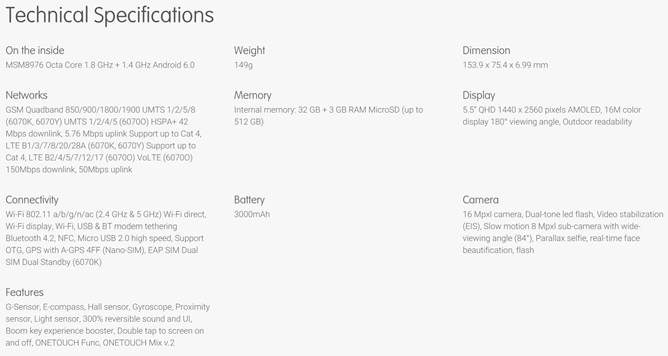 The larger model, the Idol 4S, is uncannily similar to the 5.5-inch Idol 3. The 4S handset will feature a 5.5-inch QHD AMOLED display with a resolution of 1440 by 2560 pixels. The AMOLED panel takes the 4S a notch higher to the Idol 4.
The device is powered by a 1.8GHz + 1.4GHz octa-core Snapdragon 652 chip-set. Like one of the Idol 4 versions, the 4S also comes with 3GB RAM but has a much better internal memory capacity of 32GB which is expandable up to 512GB. It also packs a 3,000mAh battery.
The 4S also features a better rear camera than the Idol 4 sporting a 16MP rear unit. The front unit, however, is the same for both at 8MP.
Both models will come pre-installed with Android 6.0 Marshmallow, a major upgrade from the Android 5.0.2 its predecessors have. Tech website WinFuture also managed to get hold of clearer images of the two devices which show the new models do not feature many new design elements.
Alcatel is said to be eyeing an MWC 2016 launch for both the devices.