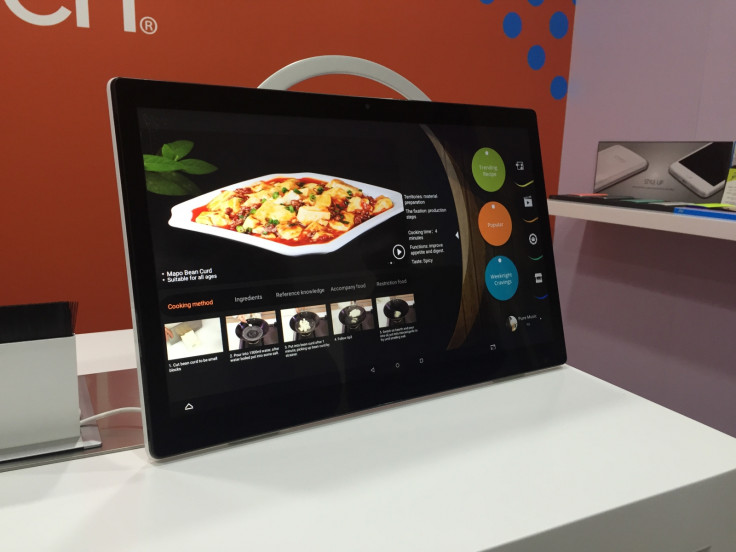 As the boundaries between smartphones and tablets blur into phablets, so too is the border between tablets and televisions. Beating Apple and its expected iPad Pro to the punch, Alcatel OneTouch has revealed the Xess, a massive 17.3in Android tablet to be used in the kitchen.
The company urges us not to call it a tablet − "a tablet so different we don't want to call it a tablet," it says – and has instead offered up the new product category of BigPad. We're not sure if this name will stick − in fact, we sincerely hope it doesn't − but the idea of a large tablet for the kitchen is something we can get along with.
IBTimes UK had a demonstration of the Xess at the IFA technology trade show in Berlin. It is certainly not designed for your daily commute, and we can't really imagine ever taking it outside, except to be used in another house or on holiday. But for the kitchen we reckon Alcatel could be on to something − and as well as running Android, the company has created a suite of apps designed to combine cooking with video and music.
Open the app and you have an attractive cooking recipe on the left, then either a music player or video streaming service on the right, so you can keep up with a podcast or watch an episode of your favourite TV programme while preparing dinner. To prevent greasy hands smearing all over the Full HD screen, Alcatel has employed a range of swiping gestures to help you navigate without touching the display. Wave your arm left and right to switch through instructions, for example, or use another gesture to pause the video.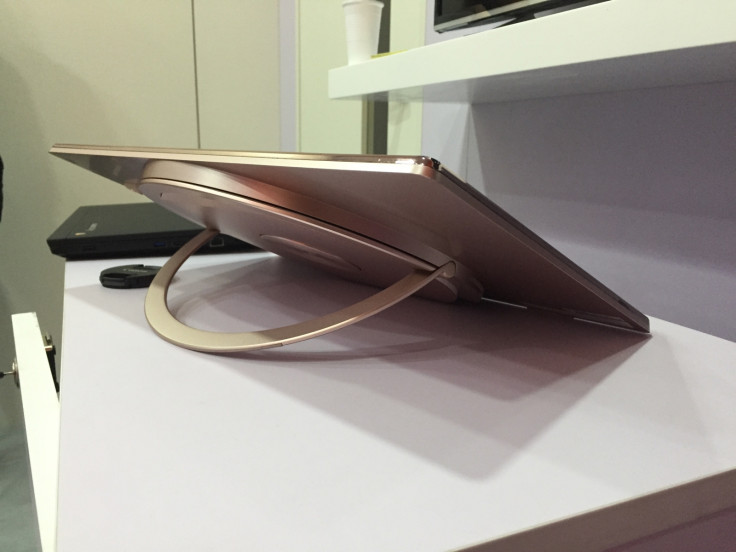 Physical quirks include a slide-out handle so the Xess can be carried like a briefcase, plus a stand which is fully adjustable and means the tablet − sorry, BigPad − can be stood at any angle. Alcatel took us through those angles that work best for different positions: upright when the viewer is seated, a more reclined angle for when you're standing up, and finally laying the Xess flat so it can be used for chess or other digital board games.
Alcatel OneTouch clearly wants the Xess to become a central part of family life, and so a widget which can be emailed to display useful messages (don't forget to buy some milk, I'll be late home tonight, dinner's in the fridge etc) appears front and centre. A five-megapixel front-facing camera can be used for family video conferences, plus there's an app to tap into activity monitors and compare the daily steps of each family member.
A 10,000mAh battery will see the Xess last for between five and seven hours on each charge, although we imagine such a tablet will spend most of its life plugged in. The Xess is powered by an octa-core 1.5GHz processor, a pop-out dock reveals two USB ports, and there is also a stylus which connects magnetically to the back for each storage.
Alcatel doesn't yet have an exact price for the Xess, but told us it will cost somewhere between a high-end tablet like the iPad Air 2 and a laptop. We expect to see it cost around £500 when it goes on sale in Europe at the start of 2016, following a launch in China in late 2015.