London, Scarborough and Salisbury are the top three invasion hotspots, according to research released by the UFO Investigation and Research Unit.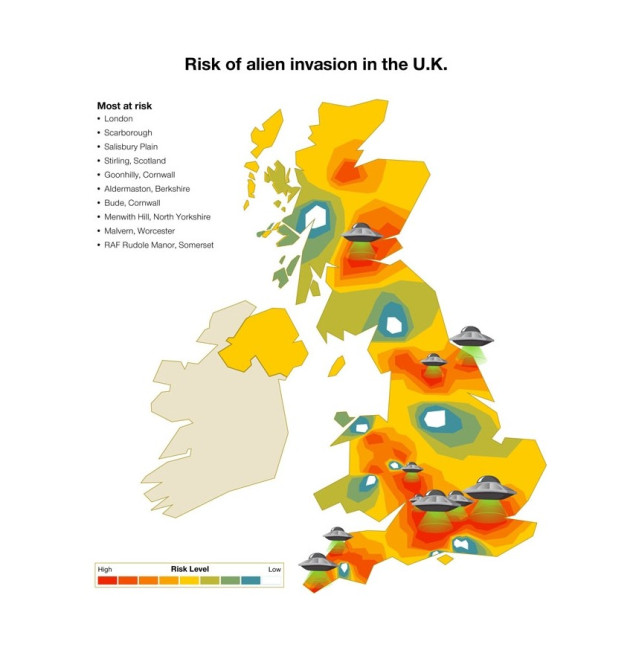 The non-profit organisation report was commissioned to coincide with the launch of the videogame Inversion, which sees humanity put on the extermination list by alien invaders.
London is most likely to be attacked by aliens as it is home to central government, contains 12 per cent of the UK population and much vital communication infrastructure, says the report.
The research unit's white paper looked at criteria such as UFO sightings, military build-up and government infrastructure to create a UK invasion threat map.
It is the nearby military presence and research bases that put both Scarborough and Salisbury in the second and third spots on the list.
The RAF Fylingdales Phased Array tracking facility is based near Scarborough, while Salisbury is surrounded by numerous military bases including microbiological research, the RAF training centre at Boscombe Down and Salisbury Plain - the UK's answer to Area 51, which has a major role in UFO beliefs.
"The risk is very real, with UFO sightings increasing each year," said Phil Hoyle, head of the UFO Investigation and Research Unit.
"The government needs to be vigilant and introduce measures that ensure the public's safety. They have a right to be prepared for the inevitable and this research demonstrates a threat that is potentially on their doorstep."
Areas of the country under least threat include Fort William, Carlisle and Ludlow, although any small village situated away from cities and known bases will apparently offer a better chance of survival.
Key factors to an alien-free life are low population and resources.
"An attack on the UK would be catastrophic and our research clearly shows that it would immeasurably impact the everyday person," said Gary Chantler, product manager at Namco Bandai Europe, which launched Inversion.
Inversion follows ordinary police officer Davis Russell and his partner as they battle an unknown alien threat. The game is rated 18.
It was developed by Saber Interactive and published by Namco Bandai Games and is available on Windows PC, PlayStation 3 and Xbox 360.