A teenager hurt in the Alton Towers rollercoaster crash is in a "critical" condition in hospital.
Victoria Balch was among four people seriously injured when two carriages collided on the Smiler ride on Tuesday (2 June) afternoon.
Her lawyer, Paul Paxton, has reported that she is in a "critical" condition, suggesting she was more seriously hurt than previously reported.
He added that it while her family are "distraught" it was expected that a "substantial claim for damages" would be made and a criminal prosecution may be considered.
"Whilst it is anticipated that there will be a substantial claim for damages to support Victoria in her recovery, the main focus at present for the family is Victoria's well-being and ensuring that the investigation into the accident is carried out swiftly and vigorously.
"They have every confidence in the police and the Health and Safety Executive [HSE]. It is expected that serious consideration will be given to criminal prosecutions. The family are distraught that a fun day out could turn into such a potentially life-changing disaster."
The laywer's statement comes as the boss of Alton Towers admitted in an interview with Sky News that safety measures "weren't adequate" at the attraction.
Nick Varney, chief executive of Merlin Entertainment, which runs several UK theme parks, said "another layer" of safety was being added to existing rides.
He said: "What we have done today is put in another level of additional safety measures across all of our parks that operate these types of rides. All of them - bar two - have been able to implement those new procedures today.
"The two rides at Chessington that are currently suspended will take a few days before we can make the technical and training adjustments to bring them up to the new level of safety protocol - it doesn't mean they were not safe before. I think we have had very rigorous protocols across all our attractions. We have had the first - and I hope only accident - in one of our theme parks. We have to make sure that doesn't happen again."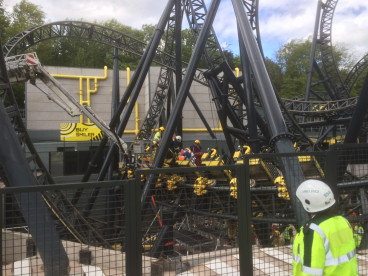 "[Safety measures] clearly weren't adequate on Smiler, because the accident happened. We have taken steps to upgrade safety standards from what were already very stringent safety standards. I want to be able to look everybody in the eye and promise them when they come to our parks and get on our rides that they are safe."
Sixteen thrill seekers were on board the Alton Tower's ride when one moving carriage crashed into a stationary one shortly after 2pm.
A witness to the accident tweeted: "Just been a big accident at Alton Towers down to human error, people unconscious, blood everywhere, faces smashed in and knocked out. They sent out a test cart on the smiler and then one with customers and they crashed."
The other three seriously hurt have been named as Daniel Thorpe, a 27-year-old hotel assistant manager from Buxton in Derbyshire, textile design student Joe Pugh, 18, from Barnsley, South Yorkshire, and his girlfriend, Leah Washington, 17 who were at the Staffordshire theme park on a first date.
The couple suffered serious leg wounds in the incident.