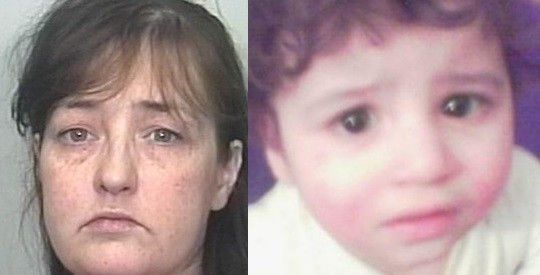 A mother who let her four-year-old son starve to death and left his body in her squalid home for two years has been sentenced to 15 years in jail.
Amanda Hutton, 43, was found guilty of the manslaughter of Hamzah Khan, whose mummified and insect-ridden body was found at his Bradford home in 2011. He had died 21 months earlier.
Hutton was also convicted of cruelty to her other five children who were living in the squalid home. The five siblings, aged between five and 13 in 2011, were found to be malnourished and living in knee-high rubbish including soiled nappies, pizza boxes and empty bottles of vodka.
Hutton and Hamzah's elder brother Tariq Khan also admitted preventing the burial of Hamzah.
Hutton received 12 years for Hamzah's manslaughter, as well as 30 months for preventing the burial and three years for child cruelty to run coherently. Khan, 24, was given a two-year suspended sentence for preventing the burial of his younger brother.
The court heard how Hamzah had "wasted away" after being fed on a diet of half a banana, half a supermarket pasty and whatever was "lying around" every day. When his body was found, he was wearing a baby grow for children aged six to nine months.
Hutton was described as a "nasty drunk" who did nothing but "sit in her bedroom and drink vodka" while her son slowly died. The judge also said she posed "a real danger" to children.
He added: "The details of your wicked conduct have been displayed in such awful detail over the past three weeks in the trial.
"The offences demonstrate a most fundamental and serious breach of any duty that an individual in decent society can owe to others - namely the duty that a parent owes to her or his young children to take proper care of them."
The court heard how when Hamzah died, Khan told his mother that something needed to be done. However, Hutton warned him that if he told the authorities what had happened, she would kill her other five children.
Khan told police that Hutton held a knife to the throat of Hamzah's siblings and threatened to burn down the house if he mentioned anything about the body and the neglect occurring at the home.
Det supt Lisa Griffin, from West Yorkshire Police's Homicide and Major Enquiry Team, said this was "one of the most heart-breaking cases" she had ever dealt with.
She added: "The scenes which confronted officers inside the family home in Heaton, Bradford were truly appalling and as a mother I still cannot begin to understand the circumstances that would lead to a little boy, Hamzah Khan, lying dead for almost two years amongst some of the most appalling squalor imaginable.
"From the post-mortem examination we know that Hamzah was extremely malnourished and I can only imagine the suffering he endured in his tragically short life."
A Serious Case Review into how Hamzah was allowed to die and left undetected in Hutton's filthy home for two years is due to be published.
Shaun Kelly, head of safeguarding at Action for Children said: "Hamzah's is yet another tragic story of a child who was invisible to society and died at the hands of a parent.
"School teachers, police officers, social workers and health visitors have told us about the barriers they face when they want to help a child that they suspect is being neglected. It seems that people are so afraid of doing the wrong thing that they don't do anything at all and it all adds up to a systemic failure to protect the most vulnerable."
Prof Nick Frost, independent chair of Bradford Safeguarding Children Board, said: "Given the refusal of all offers of help that would be offered to any mother and the lack of serious concerns raised from any other source, there was limited involvement from statutory agencies."