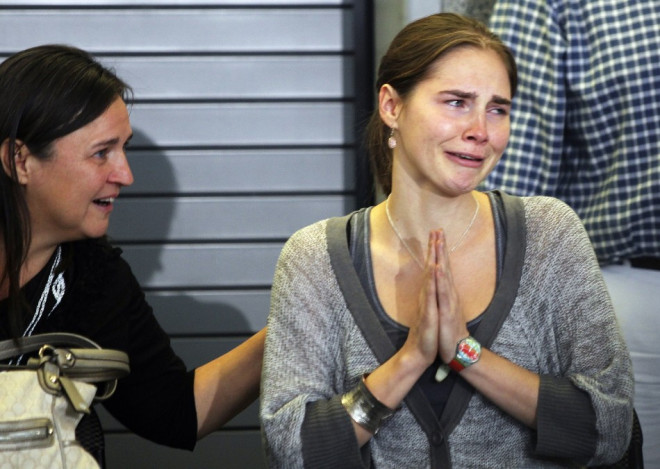 Italian judges said that Meredith Kercher was killed after an argument erupted in the house she was sharing with US student Amanda Knox in the town of Perugia.
In an almost 400-page verdict explaining prison sentences imposed on Knox and her ex-Italian boyfriend Raffaele Sollecito, judges at Florence appellate court dismissed an earlier assertion that the 21-year-old British student was murdered because she had refused to take part in a brutal sex game.
"It is not believable that a group sexual intercourse had started," judges wrote. "This hypothesis is not consistent with the personality of the English girl."
Kercher, 21, from Croydon, south London, was found in November 2007 with her throat slashed inside her room in the apartment she shared with Knox in the university town of Perugia.
Judges said it is beyond any reasonable doubt that Knox, Sollecito and Rudy Guede, a drifter from the Ivory Coast, were there at the time of the murder and took an active part in it.
Judges said that Knox and Kercher didn't get along. Knox's behaviour "got on Kercher's nerves," they wrote.
The night of the murder, tensions in the house erupted as Knox let Guede in and the Ivorian "behaved impolitely," judges said.
At the trial, prosecutor Alessandro Crini claimed that Guede had defecated in the apartment's toilet but left it unflushed and that had sparked a row between the two women.
Animosities were further exacerbated as Kercher brought up the disappearance of some money from her room, which she blamed on Knox.
Knox and Sollecito had taken drugs and the quarrel degenerated into murder.
Judges noted that at least two knives were used to attack Kercher and finger imprints on her body indicated she had been restrained.
Guede was sentenced to 16 years at the end of a separate trial and is serving his sentence in Viterbo jail, near Rome.
Knox and Sollecito were arrested days after Meredith's body was found and were sentenced to 26 and 25 years respectively in 2009.
At the first trial prosecutors claimed Kercher was killed as a group sex game turned violent.
That verdict was overturned on appeal in October 2011 and the pair, who have always claimed their innocence, were released.
Italy's Court of Cassation then quashed the ruling and ordered a retrial to be held in Florence.
Knox and Sollecito were found guilty for a second time in January this year.