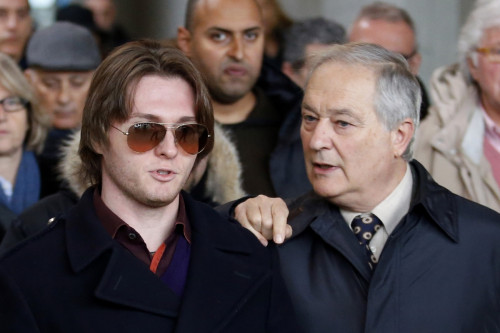 Convicted killer Raffaele Sollecito has claimed that he had been punished for the "peculiar behaviour" of Amanda Knox in the murder of British student Meredith Kercher.
Sollecito, 29, an Italian, lashed out at the decision by a court in Florence to reinstate his conviction for killing Kercher and condemn him to a 26-year-jail sentence.
Sollecito and Knox were dating when Kercher was stabbed at a house shared by the two women in Perugia in 2007.
Sollecito insisted there was no case against him and that he was found guilty for a second time because of Knox's actions.
Speaking to CNN, Sollecito said: "The focus was all on Amanda through her peculiar behaviour. But whatever it is, I'm not guilty. I don't know what to think, because objectively, there's nothing against me and nothing very strong against Amanda.
"In my case I really did nothing wrong and I don't want to pay for someone else's peculiar behaviour. They focused all their attention on her. I cannot understand why. But on the other side I'm not responsible for that. I have nothing to do with all these circumstances and situations."
In the aftermath of Kercher's death, Knox and Sollecito were spotted canoodling near the home where the student's body lay. Later, Knox reportedly turned cartwheels while in police custody.
She acquired the nickname Foxy Knoxy and was later described as 'the Ice Maiden' by fellow inmates in her Italian prison because of her frosty demeanour.
Sollecito said: "It was really unbelievable and it was kind of unreal. But whats really shocking from me is the statements by the President [of the court].
"Why do they convict me? Why do they put me on the corner and say that I'm guilty just because in their minds I have to be guilty because I was her boyfriend. It doesn't make any sense to me."
Knox stayed away from the retrial in Florence, but Sollecito was in court. He was angry the judge never invited him to give evidence during proceedings and railed against the judge for giving an interview to the media just after the latest verdict.
Sollecito said: "He recently did an interview to a paper saying I was silent and that's why he convicted me. I was silent because nobody questioned me. I was in court to answer any question and they never asked any question, so I can never reply."
In the wake of the latest judgement, Knox declared she would never return willingly to Italy from her home in the United States. But things are different for her former boyfriend.
Sollecito, who has spent enormous amounts on his defence and even sought donations from the public, has declared he will keep on fighting.
"I'm trying to be as positive as possible in a situation like this," he said. "It's very traumatic, the situation here now. But on the other side, I still have to fight. I have chosen to be here and to fight against this ordeal."