Earlier this month, American Horror Story showrunner Ryan Murphy teased audiences by suggesting that the series might revisit its witch-centric third season, Coven, sometime in the future. Now, he's revealed that he's actually developing a crossover season between Coven and AHS's first outing Murder House.
"We do know what we're going to do," Murphy told moderator Tim Stack during Entertainment Weekly's Popfest on Sunday 30 October. "It's not going to be next season, but we are going to do a season that's a crossover between Murder House and Coven together, which is very bizarre. There will be characters from Murder House and characters from Coven together.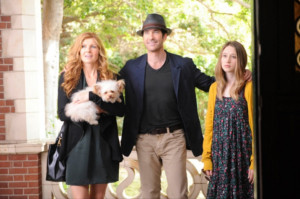 Given that Murphy has used a lot of the same actors across the anthology series, it's difficult to imagine how a series that intertwines two storylines would work.
Taissa Farmiga and Evan Peters both starred in seasons one and three. As did supporting players Frances Conroy, Denis O'Hare and Lily Rabe, and leads Sarah Paulson and Jessica Lange. With such a large number having played two roles across the two seasons, writers behind the crossover will likely be forced to leave out some fan favourites.
Characters such as Murder House's Violet and Coven's Zoe won't simultaneously be seen as they were both brought to life by Farmiga; Jessica Lange's Constance Langdon and Fiona Goode can't both feature... the list goes on.
But on the flip side, it would mean that well-loved season one characters and stars who haven't been seen for some time including Connie Britton and Dylan McDermott could seamlessly show-up.
Whatever the ultimate outcome, Murphy is already trying to come up with the best cast possible: "I've [already] started going to actors from both of the seasons, quietly, saying, 'I think in this window, if you could fit us in.' So yeah, it's fun. It's weird."
First airing back in October 2011, Murder House centres around the Harmons: Ben, Vivien and their daughter Violet, who move from Boston to Los Angeles for a new start after a family tragedy and relationship issues threatened to tear them apart. On the West Coast, they move into a beautiful restored mansion, "unaware that the house is haunted by the ghosts of its former residents and their victims."
Coven premiered in 2013 and like Murder House, was set in present day, however this time, in New Orleans. It follows a coven of Salem witches as they learn to harness their powers and fight for survival. The show's sixth season American Horror Story: Roanoke can currently be seen on FX.
For more entertainment news follow us on Twitter @Alistinsider