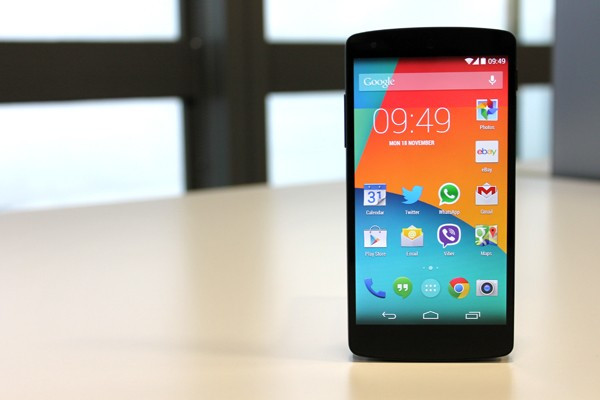 Google has released the minor Android 4.4.3 update which is now available in the UK for the Nexus 5 and the Moto G.
While the update is relatively minor it will be welcome by Nexus and Moto owners for fixing niggly problems with both ranges of devices, including camera and battery issues.
The update is a minor one from Google ahead of the expected launch of Android 4.5 (codenamed Lollipop) at the company's annual developer conference - Google I/O - in three weeks time.
Android 4.4.3 was initially launched in the US earlier this week, but as is typical with software updates from Google, the release doesn't happen everywhere all at once - even on those devices which run native versions of Android like the company's own Nexus devices.
However on Thursday evening, IBTimes UK received a notification on its Nexus 5 that an update was available and within minutes Android 4.4.3 had been installed.
So far the update has not come through to the Moto E smartphone we have in the office, but it is likely to follow shortly. Nexus 7, Nexus 4, Moto X and Moto G devices will all likely receive the update too, as well as Google Play editions of smartphones from Samsung and HTC.
However, as this is such a minor update, it is unlikely that any other smartphones will get it any time soon - especially considering the length of time it takes for manufacturers and operators to push out Android updates.
---
Android 4.4.3 - Details
---
So what fixes and features does this minor update bring? Here's a list of the biggest changes and improvements made by Google:
While not a problem for everyone, there have been many reports online of the Nexus 5 camera app draining way too much battery, and Android 4.4.3 fixes this.
This is unlikely to change your life, but the big visual change with Android 4.4.3 is Google has redesigned phone dialler, which mimics some of the design language of the Gmail app.
Moto battery issues fixed
Just like the Nexus 5 camera drain, reports online suggest the Moto X, Moto G and Moto E all suffered from power consumption issues on Android 4.4.2, which Google says have been fixed with this update.
Alert comes to Moto X and Moto G
Launched with the Moto E, the Alert app can be used to warn close friends and family of any impending emergency or danger by sending out a location blast to a curated list of contacts, as well as auto-dialling the local emergency service.
Google has improved support for the FLAC standard in the update, with some complaining of issues surrounding playback in earlier versions of Android 4.4.