New Android 4.4 KitKat release details have emerged online for the international variants of Galaxy S3, Galaxy Note 2 and Galaxy Grand 2 Duos via a leaked document, following Samsung Poland's global KitKat release listing for multiple Galaxy devices, just a few weeks ago.
As SamMobile reports, the document procured from an unidentified Samsung insider, clearly reveals the official KitKat update schedule for the latest Galaxy devices including S3, Note 2 and Grand 2.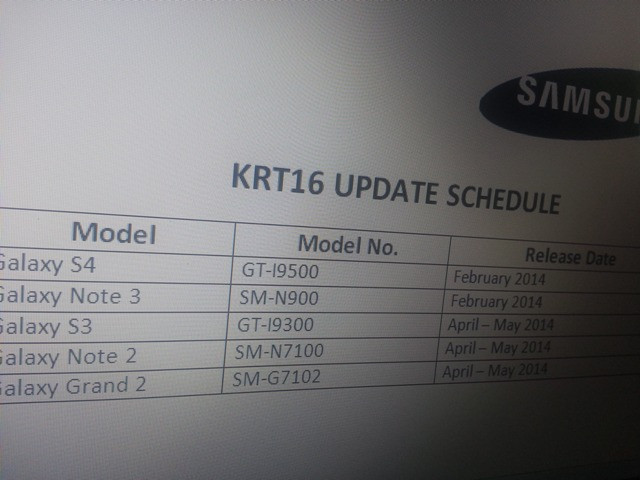 According to the screenshot of the leaked document, the KitKat update rollout for the Galaxy devices is scheduled for April-May. In other words, it means these devices could get the KitKat update a few weeks after the official Galaxy S5 release.
As there is no confirmation on the legitimacy of the documents, it could be a clever prank or a fake attempt to exploit the rising demand for the KitKat update in the market.
It must be noted that the Galaxy Note 2's model number is incorrectly listed as SM-N7100 instead of GT-N7100 in the screenshot of the leaked document. It is not yet known if this is an unintentional mistake from a Samsung insider or a faked document by someone with little knowledge about model numbers.