West Ham Untied co-owner David Gold claims the club would be interested in Liverpool striker Andy Carroll should he become available.
The Hammers have been linked with a loan move for Carroll, who scored nine goals last season in his first full campaign with The Reds.
And Gold, whose West Ham side achieved promotion via the Championship play-offs last season, says his side would be interested in Carroll but denied talks had begun.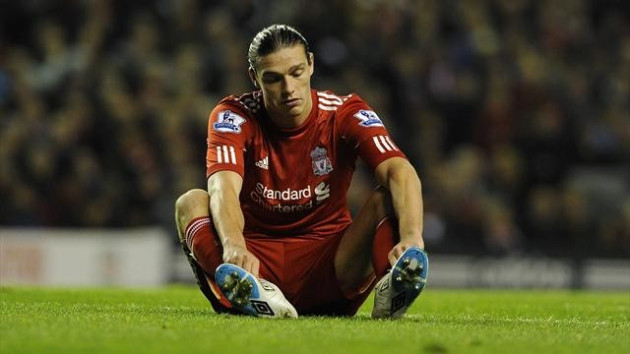 "I am not aware of any talks between ourselves or Liverpool over Andy Carroll," Gold, who has previously revealed an interest in signing Carlos Tevez, Fernando Torres and David Beckham, said.
"But that's not to say we don't have an interest should he become available."
Despite enjoying an impressive end to the season with Liverpool, which included a goal in the FA Cup final against Chelsea, Carroll has struggled to make a consistent impact since his January 2011 move from Newcastle United.
Injuries dictated much of his initial career at Anfield, as he netted just twice in his first six months, while his inauspicious start to the 2011/12 campaign raised questions over Liverpool's £35m investment.
However, Carroll came to life during the back end of the season, scoring the winner in the FA Cup semi-final against Everton, before returning to Wembley to net against Chelsea.
His late season performances earned him a place in Roy Hodgson's England squad for the European Championship, scoring in the second group game against Sweden; his first competitive goal for his county.
Having been signed during Kenny Dalglish's spell at The Reds, Carroll will be forced to win over new manager Brendan Rodgers, before the Northern Irish boss commits to including him in his first-team plans.
The former Swansea City manager has built a reputation for playing an attractive short passing game, which conflicts with Carroll's key attributes which relies on service from wide positions.
On a possible loan deal for Carroll, Rodgers said: "It's something I would have to look at, I have to be honest.
"Andy's always going to be linked with clubs, whether he was here or not. He knows exactly where he stands, but I have had no inquiries about him."
"There are many things to going on loan. Is it going to be beneficial for the club, that's the most important thing?
"Sometimes a player going out on loan - in general, not just Andy - can benefit the club in the long term."