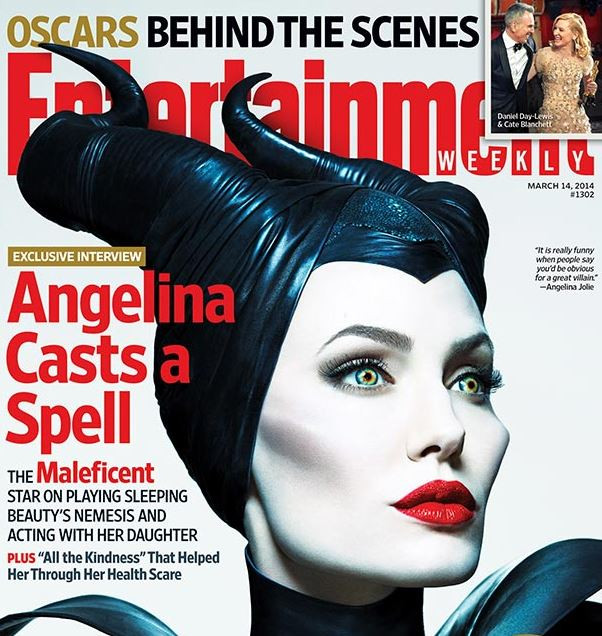 Hollywood glamour queen Angelina Jolie poses as Disney character Maleficent on the cover of Entertainment Weekly's latest issue.
Jolie, who plays the evil Queen in the upcoming Disney film Maleficent, can be seen on the cover in a horned headdress with red lips, yellow-green contact lenses and a black cape.
Her sharp cheek bones — reportedly inspired by Lady Gaga's cheek prosthetics on her Born This Way album cover — added more essence to her appearance.
The movie focuses on Maleficent's early life and the events and struggles that turned her to her dark side, which led her to curse Aurora in the 1959 classic Sleeping Beauty.
In the interview, the 38-year-old actress reveals how her five-year-old daughter Vivienne Jolie-Pitt got the role of a young Princess Aurora.
"We think it's fun for our kids to have cameos and join us on set, but not to be actors. That's not a goal for Brad and I at all," Jolie said.
"But the other 3- and 4-year-old [performers] wouldn't come near me. It had to be a child that liked me and wasn't afraid of my horns and my eyes and my claws. So it had to be Viv."
Jolie recalled how her ten-year-old son Pax was terrified of his mother in costume and ran away crying.
"When Pax saw me for the first time, he ran away and got upset — and I thought he was kidding, so I was pretending to chase him until I actually found him crying," she added.
"I had to take off pieces [of the makeup] in front of him to show him it was all fake and not freak out so much."
The film marks the directorial debut for Academy Award winning production designer Robert Stromberg (Avatar and Alice in Wonderland) and the team includes producer Joe Roth (Tim Burton's Alice in Wonderland, Oz the Great and Powerful) and screenwriter Linda Wool.