Students from Corpus Christi Catholic College in Leeds have attended mass to pay respects to Ann Maguire who was stabbed to death in front of youngsters during class.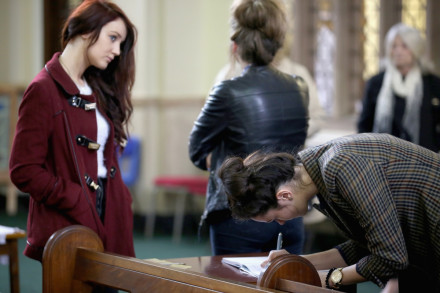 Teenagers lit candles and prayed together at Corpus Christi Church at a service next door to the school where Maguire was attacked and killed.
Around 300 people attended the mass at which they were asked to light a candle in memory of Maguire, 61.
The moving unofficial memorial service took place as details emerged about macabre images posted online by the teenager being held over her death.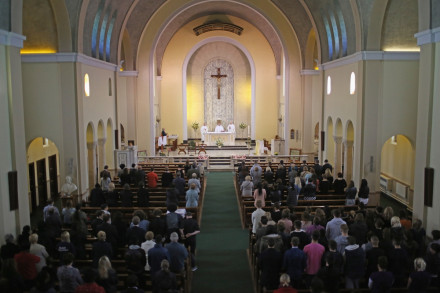 Youngsters comforted each other as the community struggles to come to terms with the loss of a popular woman who taught Spanish, was head of year 11 and had worked at the school for four decades.
Maguire had been due to retire in a few weeks.
A 15-year-old boy is being held in custody and is set to be questioned by police.
Floral tributes were fixed to the school's railings by members of the school community.
Maguire's killing is believed to be the first time in Britain that a teacher has been stabbed to death in a British classroom.
Leading mass, Monsignor Paul Fisher said: "Yesterday evening, the community gathered here in church as well as outside to light candles and to say a prayer.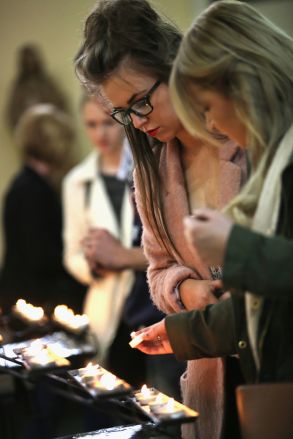 "By the time the church was closed, the candelabras were full of light.
"Today we pray for the light of hope. Hope for ourselves that we will come to terms, eventually, with what has happened.
"We pray for all those young people at our school next door and their teachers. We pray for Ann's family and friends. "
Corpus Christi Catholic College was open as usual today (Tuesday). The decision not to close was endorsed by the local education authority.
Cllr Judith Blake of Leeds City Council said: This is a very tragic incident. They have someone in custody.
"There is no risk coming to the school today. The school is safe."
Details have emerged about the teenager being held by police over the killing of Maguire. The 15-year-old posted images on Facebook of a grim reaper holding a scythe in a symbol of death. He was described by fellow pupils and neighbours as a high achieving loner, who excelled at art.