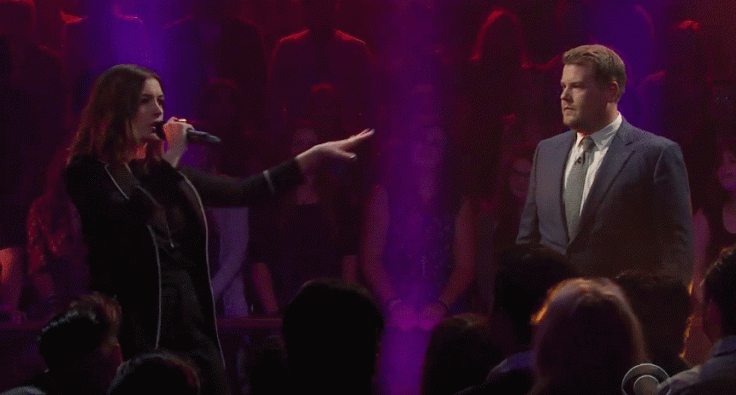 James Corden went head-to-head with Anne Hathaway in the 24 May episode of The Late Late Show. The two took part in an epic rap battle in the Drop the Mic segment of the show, with Hathaway calling Corden the "worst British export since small pox" and the host making fun of her "awful British accent".
The gloves soon came off as the two contenders started whipping out rhymes making fun of each other's careers and looks. Starting off with a line about her movie Get Smart being a flop, Corden added: "Now it's her turn to try and act a little scary, 'cause the only Catwoman I acknowledge is Halle Berry".
Quick to reply, Hathaway, 33, teased him about not being famous enough. "A Catwoman woman diss? Gosh, what do I do? I can't make fun of you James, 'cause no one's heard of you," she said. "Now that I finally have a chance to speak, I saw your rhymes are like your ratings, damn, they're incredibly weak."
The 37-year-old Brit followed it up by making fun of the Alice Through the Looking Glass actress' "awful British accent" in the film One Day and her flop stint hosting the 2011 Oscars. She in turn burnt him with some lines about his weight and said his wife probably watched Seth Meyers instead.
Finally, the winner was judged by the crowd and the Princess Diaries star was named the winner following her final rap in which she referenced her haters. "I heard everything man, and none of it broke me. I battle with love and joy, so I am always unafraid. But son, now you know how it feels to get Hatha-slayed," she dished out to a cheering audience.