There have been a fair few trailers for Disney's upcoming sequel, Alice Through The Looking Glass, unveiled in the run-up of the film's release but the studio's most recent, which debuted at the Grammy Awards, might just be the wackiest yet.
While the new sneak peak doesn't necessarily elaborate on the storyline any more than previous snippets have, this one does feature a singing tiger rug, a menacing (and colouredcontacts-wearing) Sacha Baron Cohen and titular character Alice shrinking down to the size of a caterpillar.
The new clip also boasts a song likely to feature on the movie's soundtrack, Pink's version of Jefferson Airplane's White Rabbit; a ditty whose lyrics fit perfectly to the film's plot. But what behind all those dazzling visuals, what is the plot?
Well, the movie sees Alice travel one again to Wonderland, which has now been transformed into a barren wasteland by the evil Time (Cohen). To restore Wonderland to its former glory, save the Mad Hatter and the rest of its inhabitants, Alice must retrieve a magical sceptre that will put an end to Time's reign and place the Red Queen, who might just be the lesser of two evils, back atop the throne.
The rest is a little vague, but a least the time-bending aspects explain why Stephen Fry's Cheshire Cat appears more like a kitten on the new poster...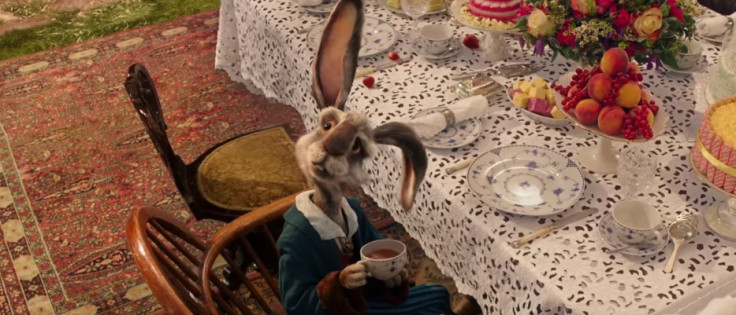 James Bobin (The Muppets) has stepped in as director of the follow-up – which, judging by the recently released footage, is going to be just as fantastical and colourful as the 2010 instalment directed by Tim Burton, who has remained on as executive producer for the sequel. Disney veteran Linda Woolverton, who penned the original and has worked on a number of titles including Beauty And The Beast, The Lion King and most recently Maleficent, has written the script.
Also returning to the developing franchise are actors Mia Wasikowska, Anne Hathaway, Helena Bonham Carter and Johnny Depp, reprising their respective roles of Alice Kingsleigh, the White Queen, the Red Queen and, of course, the Mad Hatter. The film also marks the late Alan Rickman's last role on the big screen, lending his voice once again to the character of Absolem, the caterpillar.
Alice Through The Looking Glass is scheduled to reach both US and UK cinemas on 27 May 2016.
For more entertainment news follow A-List on Twitter @Alistinsider