Fresh off the success of his latest comedy drama The Big Short, which has been scooping up awards and nominations left, right and centre recently, it looks like filmmaker Adam McKay is setting his sights on a different kind of success... huge, summer blockbuster success.
Speaking in an interview with Nerdist, where he talked about what it's like directing an Academy Award-nominated movie, McKay also confirmed that he will soon be returning to the Marvel Cinematic Universe to work on upcoming sequel, Ant-Man and the Wasp.
"We've been talking to Marvel actually," he told the publication. "We just talked to them the other day, and it looks like I will be involved. I don't know if it's gonna be right from page one. But it looks like I will definitely be involved. There you go. There's a little headline for the fanboys!"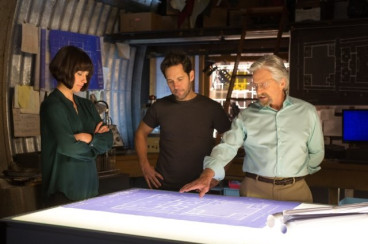 McKay helped write the script for the first instalment along with star Paul Rudd, the pair working off of Edgar Wright's original story. Wright was initially set to both write and direct the Marvel movie but dropped out of the project before the start of production. After McKay turned down the job of helming the picture, Yes Man director Peyton Reed was then bought on board and has already signed on for the sequel too, so it's likely that McKay will slot back in as writer.
Beyond that, McKay has already revealed that he has a personal interest in writing a Wasp solo movie with Evangeline Lilly in the lead role for Marvel Studios, at some point in the future. Which would be a pretty big deal in the MCU considering they've never produced a female-fronted picture for the big screen before, but for now, we'll just wait and see how things play out in the Ant-Man sequel first.
Ant-Man And The Wasp is scheduled for a July 2018 release date, but the characters are all likely to be seen in planned movies before then, given Marvel's typical approach. Paul Rudd's Ant-Man, aka Scott Lang, is confirmed to be appearing in 2016's Captain America: Civil War, further integrating the Ant-Man universe with the much larger and already established Avengers one.
For more entertainment news follow A-List on Twitter @Alistinsider