Back in November 2015, we got a little sneak peak into the upcoming action fantasy movie, The Huntsman: Winter's War. But while it boasted a dazzling cast, it didn't give too much away in terms of plot. Now a brand-new trailer for The Huntsman: Winter's War has been released by Universal Pictures and we know a great deal more.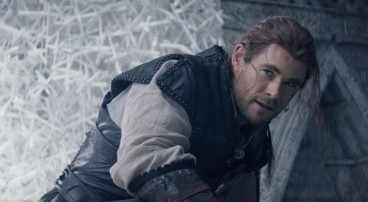 The two-minute teaser fleshes out the rather mysterious first. We are introduced to sisters Queen Ravenna (Charlize Theron) who feels threatened by her sister Freya's (Emily Blunt) baby daughter, who is prophesied to overtake her as the fairest of them all when she grows older. But when a tragic accident kills Freya's child – and the evil glares tell us that Ravenna had something to do with it – the grieving mother turns cold, in more ways than one, turning her back on her sister and her kingdom.
The trailer also tells us that as Freya "can't raise a child", she raises an army, and returns to claim the throne from her corrupt sister once and for all. Judging by the footage, epic battle sequences and plenty of fairytale folklore ensue. "Who will win the war?" the tagline asks. Well, given that it's a prequel, we can hazard a pretty good guess, but this grown-up take on such a fantasy looks entertaining all the same.
Labelled as both prequel and spin-off, the story is set partly before and somewhat separate to the 2012 Snow White And The Huntsman. The official synopsis reads:
"Before the evil Queen Ravenna was thought vanquished by Snow White, she watched silently as her sister, Freya, suffered a heartbreaking betrayal and fled their kingdom. With Freya's ability to freeze any enemy, the young ice queen has spent decades in a remote wintry palace raising a legion of deadly huntsmen – including Eric (Chris Hemsworth) and warrior Sara (Jessica Chastain) – only to find that her prized two defied her one demand: Forever harden your hearts to love.
"When Freya learns of her sister's demise, she summons her remaining soldiers to bring the Magic Mirror home to the only sorceress left who can harness its power.
"But once she discovers Ravenna can be resurrected from its golden depths, the wicked sisters threaten this enchanted land with twice the darkest force it's ever seen. Now, their amassing army shall prove undefeatable... unless the banished huntsmen who broke their queen's cardinal rule can fight their way back to one another."
The movie was directed by French director Cedric Nicolas-Troyan, better known for visual effects after being nominated for such work on Snow White And The Huntsman. It was originally slated to be directed by writer, producer and former The Walking Dead showrunner, Frank Darabont, but he exited the project shortly after leaving Universal.
As well as Theron, Blunt and Hemsworth, the film stars Jessica Chastain as Eric's warrior ally Sara, The Hunger Games's Sam Claflin, reprising his role from the first instalment, and comedian Nick Frost. Newcomers Alexandra Roach, Sheridan Smith and Rob Brydon will also appear in the movie which is slated for UK release on 8 April and in the US on 22 April.
For more entertainment news follow A-List on Twitter @Alistinsider