Major Marvel announcements came thick and fast on 8 October and whilst fans might be happy that a sequel to this year's Ant-Man has finally been made official, they're not very pleased that it came at the cost of delaying the release of Captain Marvel. Comic-book fans had been hoping to see Captain Marvel in a previously promised late 2018 release, but it seems they will now have to wait an extra year.
Following the success of this year's Ant-Man, starring Paul Rudd, Marvel Studios have confirmed that follow-up Ant-Man And The Wasp will be released in July 2018. However, previously planned Captain Marvel will now be pushed back until 2019 to make way for the new movie, and Black Panther will be moved forward a few months to hit cinemas in February 2018. The filmmakers also announced that they have four currently untitled movies planned for 2020.
In reality, the shift only means that we'll see the film a few months later in cinemas, and wouldn't necessarily be such a big deal if it wasn't for everything that Captain Marvel stands for within the comic-book movie world. Captain Marvel, originally set for a November 2018 release, is to be Marvel's first ever female-fronted superhero movie and in the year that Marvel was heavily criticised for sexism and lack of representation of strong women on-screen, it is safe to say, the fans wanted it badly.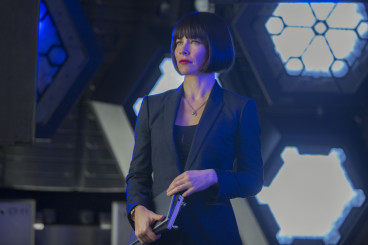 Comic-book lovers have been saying for years how it was both strange and frustrating that Black Widow (Scarlett Johansson) has never had her own movie, despite being present in the universe much longer than newer characters Captain America and Thor. Then when Avengers: Age Of Ultron came out earlier this year, presenting a rather bizarre backstory for the character, as well as an out-of-the-blue romance with fellow Avenger Bruce Banner/Hulk, viewers could not help but wonder why Marvel were downplaying and stereotyping their female roles so much.
The theories and accusations of sexism in the Marvel universe were amplified even further once Age Of Ultron merchandise appeared for the film's release. Black Widow, and other significant female character in the movie, Scarlet Witch, were absent from toy sets, posters and other purchasable items. And despite there still being no official talk of a Black Widow-centred movie coming any time soon, followers of the entire franchise were encouraged when the studio announced its plans for heroine-based Captain Marvel back in 2014.
But now, while the studio might think it has just pushed the project back, the fans can't help but see it differently. Delaying their first female movie and placing a male-fronted one in its place (regardless of the fact that Evangeline Lilly's The Wasp gets a nod in the title) presents the idea that Marvel Studios lack faith in the Captain Marvel project and think that Ant-Man 2 would be a safer bet, hence the earlier release date. It is also the second time its has pushed Captain Marvel back after yet another Spider-Man was announced to be in the making in February 2015.
Perhaps it wants to test the waters first with a jointly male and female-led movie in Ant-Man And The Wast, but that doesn't help quell the idea that Marvel aren't too sure about women leading a superhero picture, and fans were quick to voice their disappointment over the decision on Twitter. One user wrote that the decision to push back the movie was "appalling", whilst another simply asked: "Do studios not think we want female heroes?"