A smartphone app has been released to allow anti-Nazi activists to block far-right extremist protests in Germany.
The app, which is already available on Android and is slated to be launched on Apple's iOS platform on Friday, is the brainchild of Jessica Zeller and a group called Berlin Gegen Nazis (Berlin Against Nazis).
The app will alert activists to upcoming far-right protest marches, showing the route with a brown line on a map. The app also highlights where the counter protests will take place, allowing activists to easily co-ordinate their activities.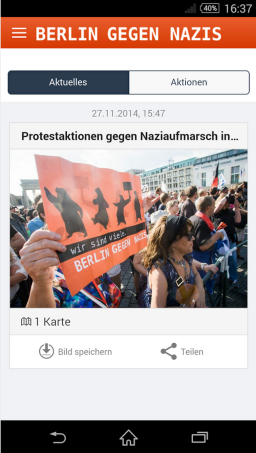 The app will complement the Facebook and Twitter accounts which are already in operation by the Berlin-based group. The activists were able to successfully disrupt a far-right protest march on 22 November which was due to take place in Marzahn Hellendorf, a district in Berlin.
"There were four events by anti-Nazi supporters, so [right-wing supporters] avoided it," Zeller told the Deutsche Welle website.
The app currently only works in Berlin and Brandenburg but Zeller said that could change, and the developers are looking to add more languages to the app including English and Turkish.
Rise of the far-right
The launch of the app comes at a time when there is a perceived rise in far-right extremism across Europe - particularly Greece and France - however in Germany some of the far-right groups are not having the best of times.
In September, the National Democratic Party, which is Germany's biggest far-right party, were booted out of parliament in Saxony, which was one of two states where it had elected politicians.
Also in September, Germany's foreign minister Frank-Walter Steinmeier said at an international conference on anti-Semitism that "hatred of Jews" was on the rise once more in his country and across Europe, fuelled by growing violence in the Middle East.
Germany is also still coming to terms with the tragic death of a German student of Turkish ethnicity, Tugçe Albayrak, who yesterday was removed from life support having succumbed to fatal injuries sustained in an assault while trying to stop two young women from being harassed.
Germans are beginning to question the validity of making such gestures of civic courage, something which this app is also encouraging among its users.
Zeller says if people are worried about their safety, there are other things they can do:
"You can also hang a little banner on your balcony. Not everyone has to go to the demonstration, but we would be very happy if more people would go to demonstrations and show their faces in public against Nazis."