Anti-terror police have charged a 14-year-old youth from Blackburn, Lancashire in connection with an alleged Isis-inspired plot to attack Anzac Day memorial services in Australia.
The youth, who cannot be named for legal reasons, is due to appear at Westminster Magistrates' Court on Friday (24 April) in connection with the plot.
The teen faces two charges, including inciting another person to behead someone. He is thought to be the youngest ever person in the UK to face terror charges.
In a statement on the website of the Crown Prosecution Service Deborah Walsh, Deputy Head of Counter Terrorism, said: "Following an investigation by police in the North West Counter Terrorism Unit, we have today authorised charges for a 14 year old male of two offences of inciting terrorism overseas, contrary to section 59 of the Terrorism Act 2000.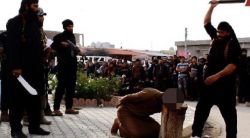 "The first allegation is that, between 15 and 26 March 2015, the defendant incited another person to commit an act of terrorism, namely to carry out an attack at an ANZAC parade in Australia with the aim of killing and/or causing serious injury to people. The second allegation is that on 18 March 2015, the defendant incited another person to behead someone in Australia.
"The decision to prosecute has been taken in accordance with the Code for Crown Prosecutors. We have determined that there is sufficient evidence for a realistic prospect of conviction and that a prosecution is in the public interest.
"The defendant will appear at Westminster Magistrates' Court tomorrow, 24 April 2015."
Two teenagers in Melbourne have been charged in connection with the alleged plot. A third is due to be charged on summons. A Muslim bookshop in Melbourne has been closed down following the raids.
Security in Gallipoli, Turkey is also extremely tight this year, due to the proximity of Isis militants. Some Turkish officials are believed to have suggested an attack is "imminent" but Australian's Department of Foreign Affairs says the event remains low risk. Prince Charles and Prince Harry will both attend events to commemorate the 100<sup>th anniversary of the battle.