Highlights of the Apple event so far
Apple Watch updates announced
iPad Pro introduced, together with the Apple Pencil
New Apple TV launched with Siri integration and touchscreen remote control
iPhone 6s and iPhone 6s Plus revealed with 3D Touch and 12MP camera
Apple launch 2015 liveblog
(click refresh for the latest updates)
8.08pm: And to wrap it up it's a "sensational music act"...
8.05pm: Tim Cook is back and he looks to be wrapping up what has been a "huge morning" for Apple. He's taking a minute to thank all the people who dedicate their lives to making other people's lives better. We're not talking Macmillan nurses or Medecin Sans Frontier, we're talking Apple employees.
8.03pm: The new iPhones will be available from 25 September in a dozen or so countries. UK included.
iOS 9 is available next week, 16 September.
7.59pm: And here's a round-up of the prices: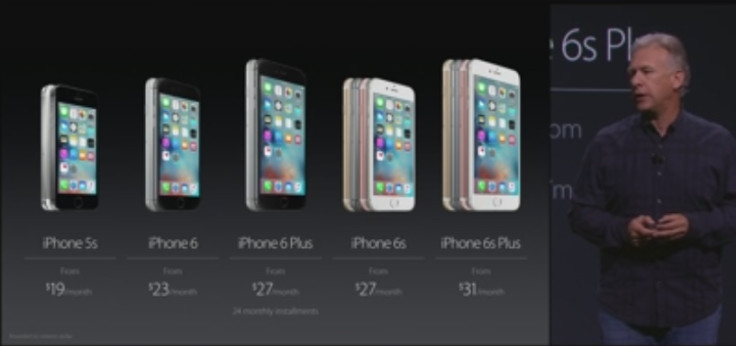 7.56pm: We've moved on to LTE bands and networks. WiFi is twice as fast, while there are now 23 different LTE bands. Here's a full round-up of the specs: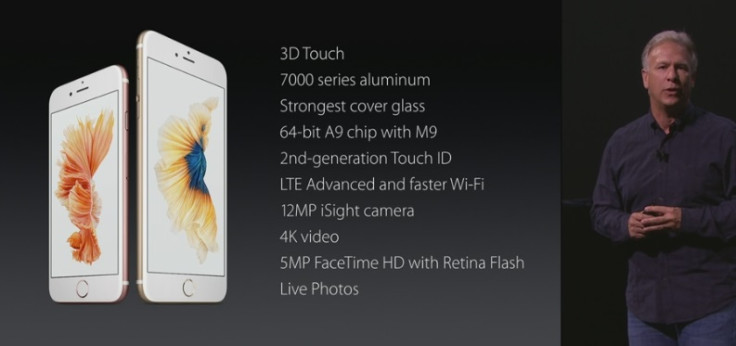 7.54pm: It all just got a bit philosophical, as Schiller asks: "What are pictures?"
7.52pm: The camera can also shoot video in 4K, while the front-facing camera features a 5MP sensor.
7.50pm: Incredible photos taken on the iPhone 6s (taken by professionals that the average user could never hope to replicate) are now on show.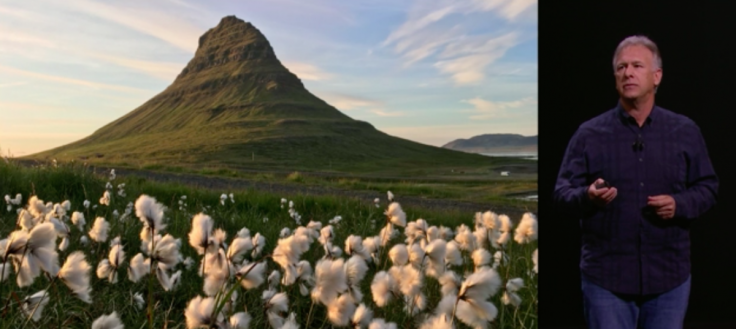 7.49pm: Autofocus is also apparently improved, while something called "deep trench isolation" separates diodes and makes them more accurate. Whatever that means.
7.46pm: Now onto the camera. The "all-new iSight camera" will feature a 12MP sensor. That's a 50% improvement on previous iPhones.
7.44pm: It's hard to keep track of all the comings and goings of people on stage. Right now it's someone called Andy Wafer from Pixel Toys showing off how 3D Touch can be used within games to fire various weapons.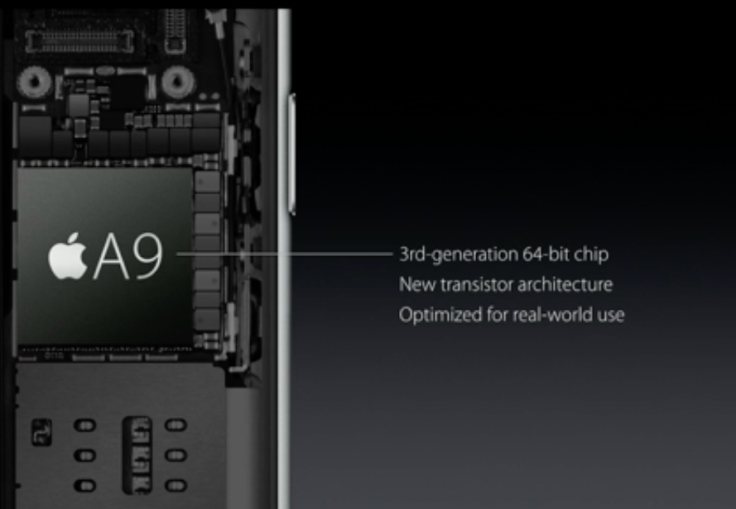 7.41pm: The new iPhones will feature the A9 chip, which is 70% faster at CPU tasks and 90% faster at graphics than the A8.
7.38pm: I forgot to mention this earlier, but the iPhone 6s and iPhone 6s Plus will be available in these four colours: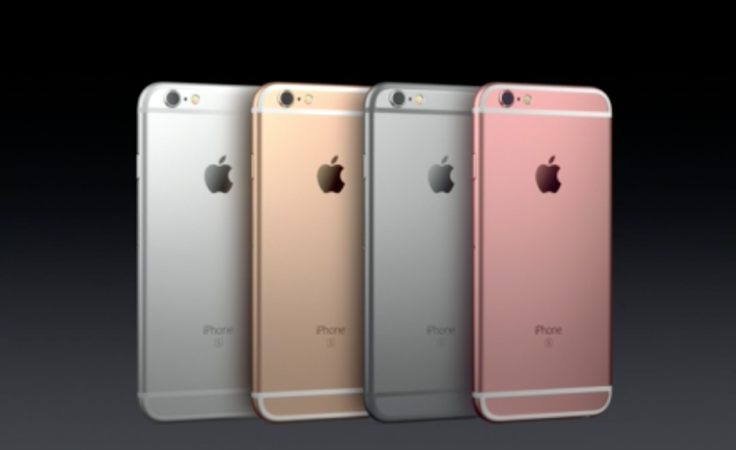 7.35pm: There is an "emergency selfie" function with 3D Touch. Oh dear.
7.31pm: We're beyond the 90 minute mark now. A video of just how 3D Touch works is now showing. A light press allows you to "peek" into a message, a harder touch lets you get into it properly.
7.30pm: "How do you take multi-touch to the next generation?" 3D Touch. We had a preview of what this will involve here.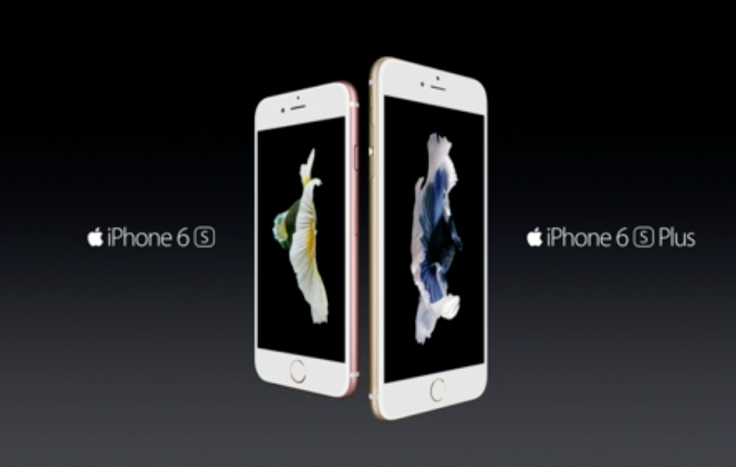 7.28pm: We'll be getting a walk through of "the most advanced smartphones in the world" by Schiller, who is returning to the stage.
7.26pm: We have a new contender for the most hyperbolic statement of the event, and it's Tim Cook again: "The only thing that's changed is everything".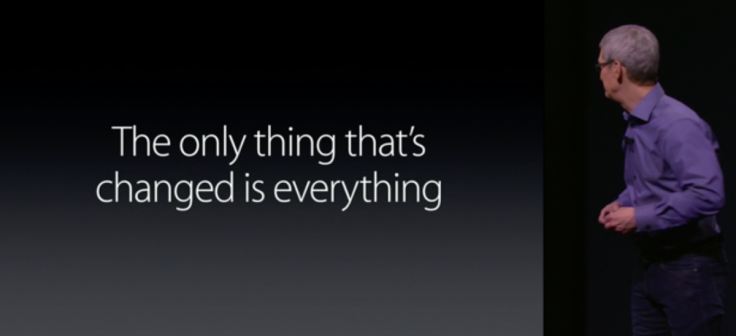 7.25pm: Tim Cook is back, letting us know that not only is the iPhone 6 the most popular phone in the world, it's also "the most loved".
7.24pm: Next up? The iPhone.
7.23pm: This is what the new Apple TV will look like: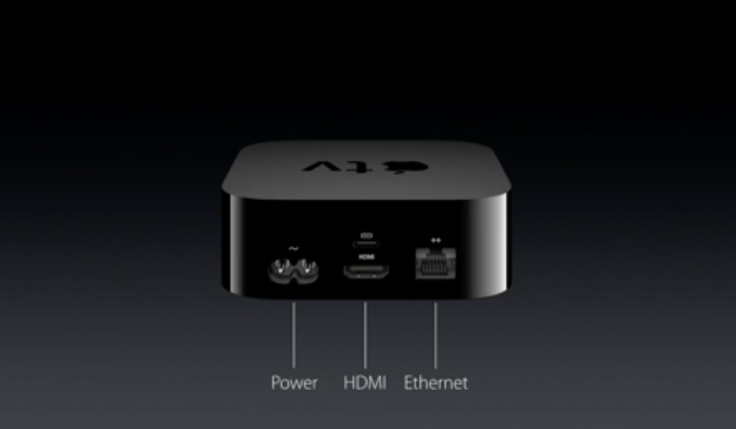 7.22pm: More info on the remote control now. The battery lasts an impressive three months, includes an accelerometer and gyroscope and it uses Bluetooth. That means no more waving the remote in the direction of the TV.
It'll cost $149 for the 32GB version and $199 for the 64GB version.
7.20pm: I don't know much about baseball and this latest demo isn't doing much to help explain it. It looks like you can zoom in to "big plays" using the Major League Baseball app. Let me know when they make a Premier League app.
7.18pm: From gaming to shopping, the new Apple TV can be used to "make fashion from home even more compelling". That's right, even more compelling.
7.15pm: The new remote does actually look pretty decent in this next demo. It's being used to play baseball in the game Beat Sports using the controller's inbuilt motion sensor. It looks a lot like something you might play on the Nintendo Wii.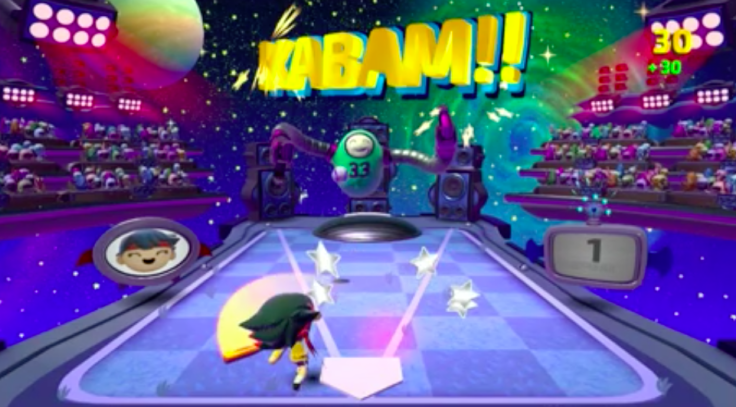 7.12pm: Some demos of the games available are now on show. They include "incredible games that have only been available on consoles", like Guitar Hero.
Classic iOS games like Crossy Road will also be available, now in multiplayer mode.
7.09pm: The new TV will be running an entirely new operating system called tvOS. It's "based on iOS and built for the living room". That's something the rumourmongers missed.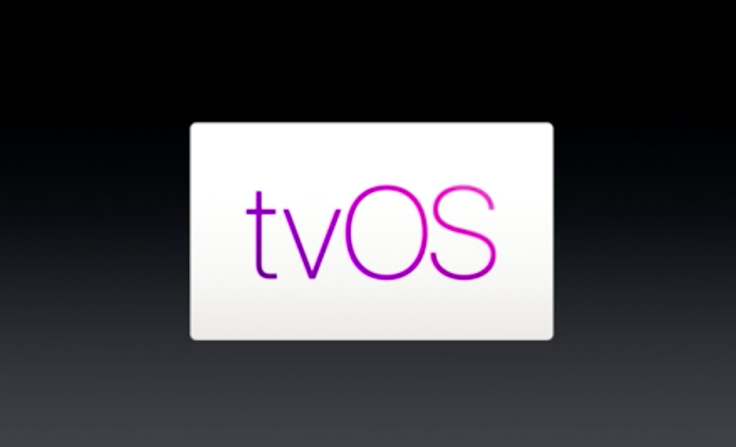 7.05pm: You can apparently get Siri to recommend what movies to watch. I wonder if it could explain the final season of Lost to me?
7.01pm: There's also a new universal search feature that works across all apps, including iTunes, Netflix, Hulu, HBO and Showtime.
Here's what an clairvoyant analyst from Strategy Analytics told IBTimes UK about this feature earlier today:
"Regardless of where you sit in the television ecosystem, failing to understand how people find out about programmes in a more fractured media environment means the increasing likelihood of shows going unwatched simply due to a lack of awareness," said Mike Goodman, Strategy Analytics' director of digital media strategies.
"Despite improvements to algorithms and user interfaces consumers aren't yet relying on recommendations to help them decide what to watch – fewer than 1 in 10 viewers use recommendations on their electronic program guide."
6.58pm: Eddy Cue is now here to explain what makes the fourth generation of Apple TV different to the third generation. As expected, it's a touch-screen remote control and Siri integration.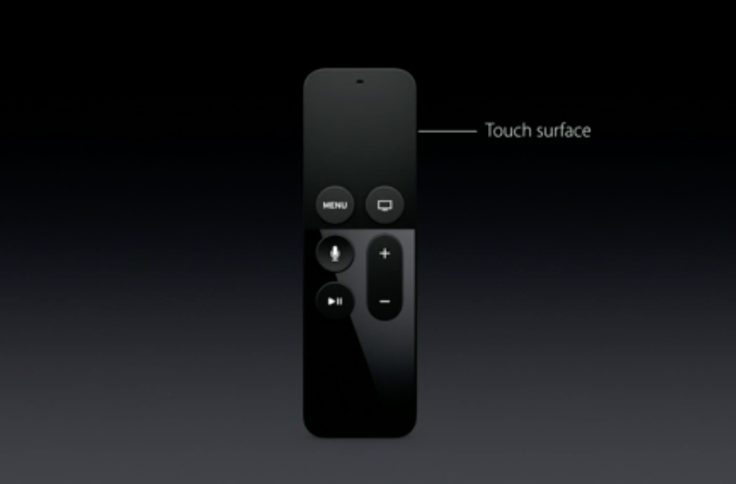 6.56pm: According to Cook it's "the future of television". And what is this bold new future? Apps, apparently.
6.55pm: Tim Cook is back on stage to tell us about the new Apple TV.
6.52pm: The significant jump in performance also comes with a significant jump in price. Starting at $799 (no UK price announced as yet) for the 32GB version, going up to $1,079 for the 128GB version.
The Apple Pencil clocks in at $99 and the Smart Keyboard at $169. Not cheap.
A new iPad mini 4 is also announced, though not much attention is given to it.
Here's how the price of the iPad Pro compares to other iPads: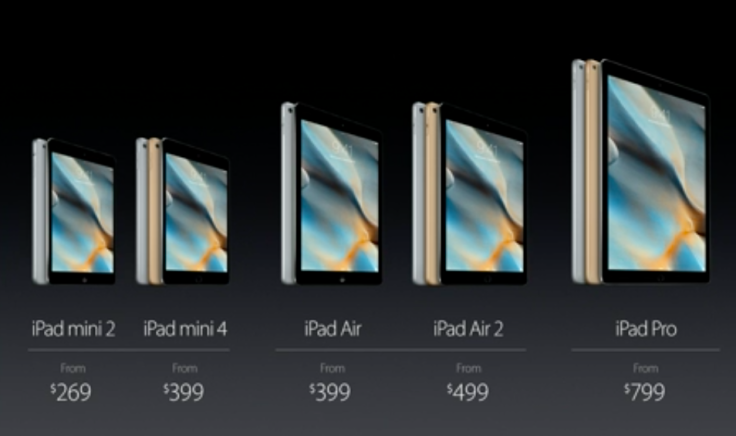 6.49pm: Schiller is back on stage to explain further why the iPad Pro is the best tablet that the world has ever seen. He follows this up by letting us know it comes in both space grey AND silver.
6.47pm: No surprises here, 3D4Medical makes "full use of the Apple Pencil". The app can help teach medical students and allow doctors to share 3D models of their skeletons and muscle structures with their patients.
This is actually an interesting new use case for the iPad and sees Apple pivoting towards brand new markets.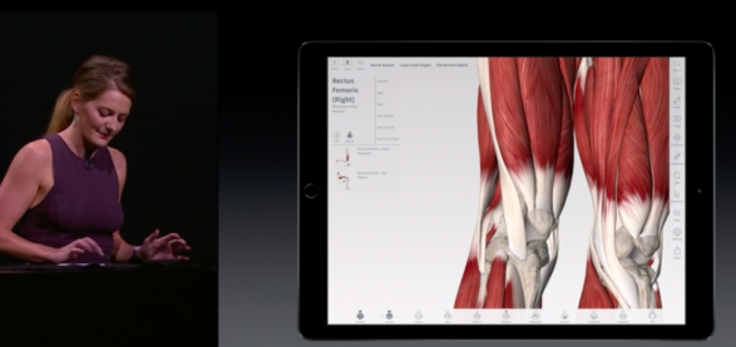 6.45pm: Another new app is now on show, this time it's a medtech app called 3D4Medical.
6.42pm: Eric Snowden is here from Adobe to tell us about a new app only available on the iPad.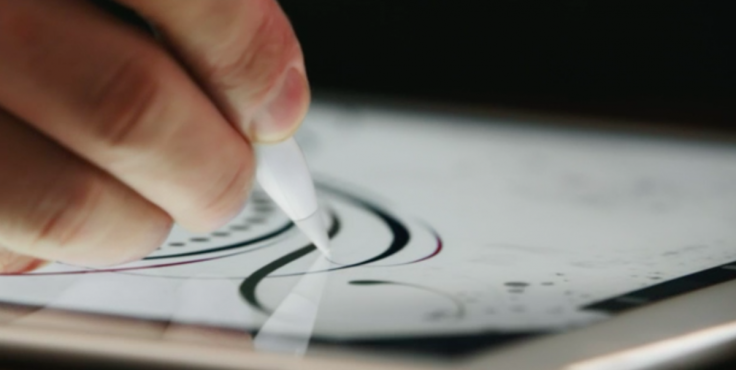 6.40pm: "Highly responsive sensors built into the tip of Apple Pencil sensor pressure, tilt, and stroke," Ive explains. "Its unique tip signature allows it to be used simultaneously with your finger."
6.37pm: Jony Ive is here to talk about the stylus, sorry, Pencil.
6.35pm: An Apple Pencil! Steve Jobs is rolling in his grave.
6.34pm: The iPad Pro will feature a 10-hour battery life and, wait for it...
6.31pm: Getting into the specs, the iPad Pro features a 3rd-generation 64-bit A9X chip, with 2x memory bandwidth and 2x storage performance.
6.28pm: Schiller announces the Smart Keyboard that can clip onto the iPad Pro to make typing easier. It's nothing at all like the Microsoft Surface. Really, nothing at all.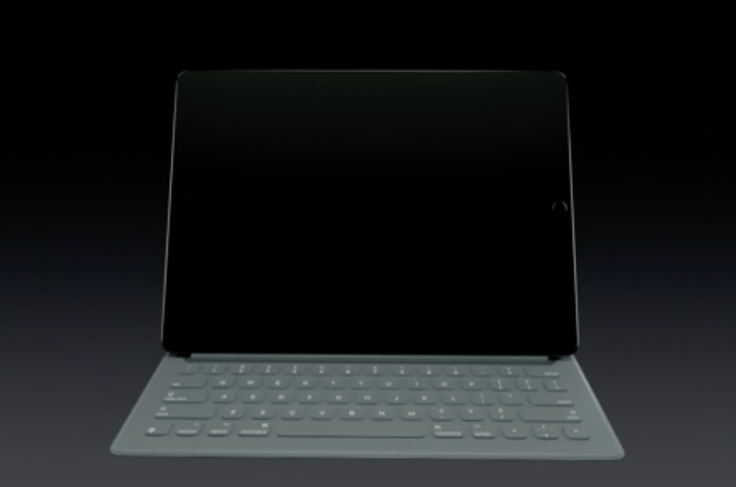 6.25pm: In 2012 it was all about making the iPad smaller. Now, three years later, it seems to be all about making the iPad bigger...
6.22pm: The width of the iPad Pro is the same as the length as the iPad Air. It packs 5.6 million pixels into its 12.9 inch screen.
Schiller: "Why make a bigger display? It's a magical piece of glass that lets you touch the software. It can do things that a smartphone can't do, because it doesn't have to fit in your pocket, and it can do things a laptop can't do because you can hold it all day."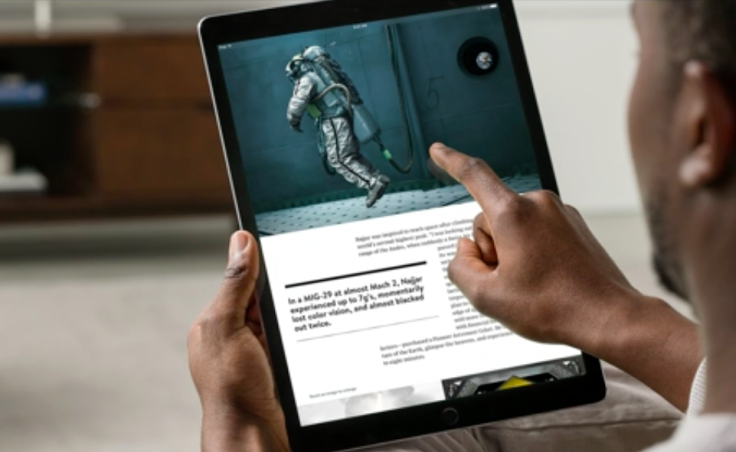 6.19pm: To tell us more about the iPad Pro, here's Phil Schiller.
6.18pm: Enough fashion for now, Tim Cook is back on stage. With the usual hyperbole that surrounds any Apple announcement, he proclaims that what he is about to say is: "the biggest news in iPad since the iPad".
It's the iPad Pro. But we already knew that, didn't we.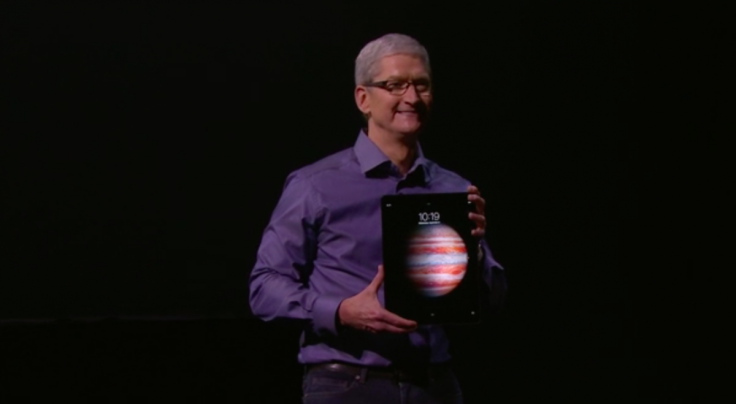 6.15pm: Jeff Williams is back to talk about a new partnership with Hermes. A double leather strap that wraps around the wrist twice is about is shown off.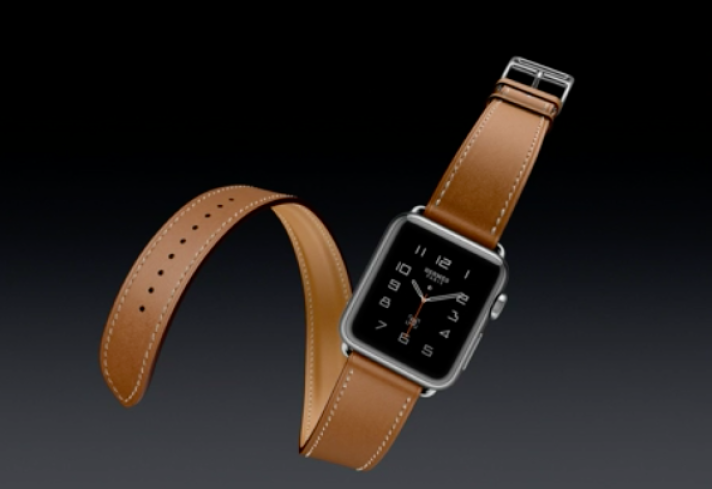 6.13pm: Airstrip will allow doctors to keep an eye on their patients through real-time feeds of the data gathered by the Watch. It can also be used to check foetal heart rate and monitor pregnant women remotely.
6.10pm: Dr Cameron Powell is now on stage to talk about Airstrip, a medical app for the Watch, that he describes as a "game-changer for healthcare".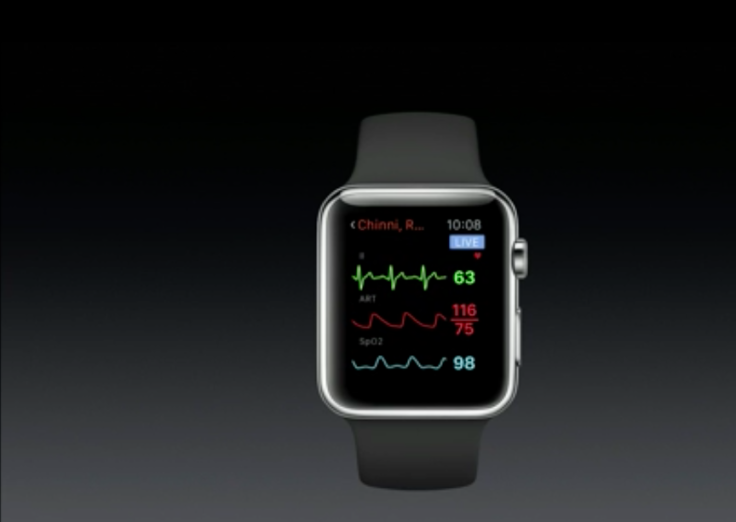 6.08pm: Williams announces that Facebook Messenger is coming to the Watch, transit directions to Maps and GoPro integration that transforms the smartwatch screen into a view finder.
6.07pm: 10,000 Watch apps. Williams: "There are already over 10,000 Watch apps on the App Store. And now with native apps developers can do even more."
6.05pm: Tim Cook has decided to kick things off with the Apple Watch, inviting Jeff Williams, Apple Watch chief, onto the stage.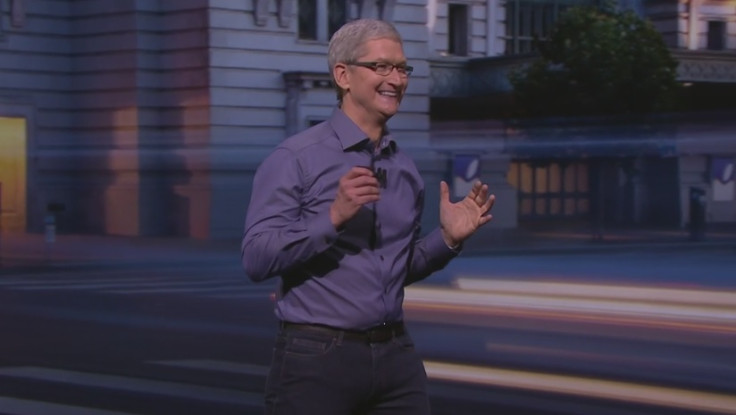 6.03pm: Tim Cook enters to applause.
6pm: It's time. Everyone is seated and we ready to go.
5.45pm: The doors have been opened and everyone is taking their seats as the auditorium fills.
5.30pm: Half an hour to go. The media continue to wait for the doors to open. The IBT Tech team are here poised at our keyboards to bring you all the news and analysis.
5.15pm: We're 45 minutes away till the curtain is raised. Stay with us as it's going to be a big event...
4.50pm: Still queuing...the anticipation mounts
4.10pm: Press are beginning to queue
4pm: Press are boarding their arranged buses and are heading to the Bill Graham Civic auditorium.
Preview:
Get ready folks, it's Apple launch time. Welcome to our live coverage as we wait with intrigue as Apple prepares to take the wraps off its latest line-up of devices. If speculation is correct we'll likely be seeing a new iPhone 6s, Apple TV, iPad, iOS 9 news, Apple Watch updates and more.
The event is scheduled to begin at 10am (PDT) or 6pm (GMT) but we've already seen Twitter's #AppleEvent pinging throughout the day from the army of gadget fans excitedly guessing and gushing over what's going to be announced.
Even Siri has been getting people in a frenzy. When the invites for the event went out it was captioned with: 'Hey, Siri, give us a hint'. Speculation has been rife as to what this means and we will finally find out what that cryptic message is all about in just a few hours. If you asked Siri for a 'hint' today you would have received this cheeky reply:
This 2015 Apple event is going to be a biggie. Apple has booked out the Bill Graham Civic Auditorium in San Francisco – a much larger venue with a capacity of 7,000 that is usually used for concerts. This tells us there's going to be plenty on show. Stay with us as we report everything that's being unveiled live. Set excitement to 10 as await the arrival of Tim Cook on stage...