In the iPod's heyday, audio docks were all the rage and it was rare to see a lounge coffee table without a newfangled speaker system with Apple's iconic portable jukebox jutting out of it. Now, a patent approval has hinted at a return of audio docks purpose-built for Apple's current range of devices.
The patent, which was one of a whopping 54 Apple patents that received a sign-off from the US Patent and Trademark Office, shows a chunky, rectangular concept device that uses a physical connector to activate a mobile device's voice recognition system (Apple's Siri).
PatentlyApple notes that there are multiple potential configurations of the "Smart Dock", but the general gist points towards a smart home device similar to Apple's upcoming HomePod, although the proposed accessory would instead draw its software smarts primarily from the iPhone.
Aside from the necessary array of music playback controls - volume, tuning, equalizer settings, and more - the Smart Dock could also include microphones for improved voice recognition and multiple speakers for better audio quality.
An infra-red remote control and radio tuner are also included in a possible version of the patented device, alongside a mooted display panel, which is undoubtedly the Smart Dock's most interesting potential feature.
Apple has big hopes for its recently-announced HomePod smart speaker when it launches later this year, but with Amazon and Google riding high in the nascent market, with Echo and Home respectively, Apple's expensive, audiophile-targeting hub has a lot of catching up to do.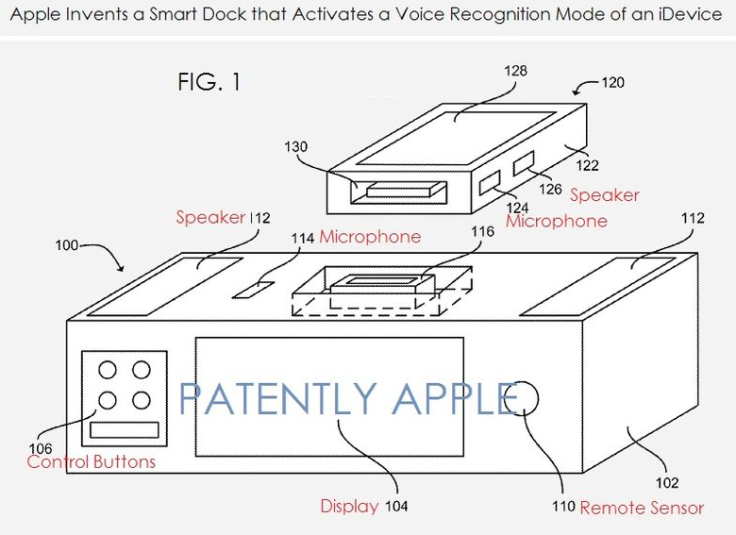 Amazon's Echo range has also expanded dramatically in recent months, with the Echo Show being the first Alexa-powered family member to include a display screen. Should Apple's patented Smart Dock plump for a screen showcasing, for example, Siri prompts music playlist information, then the Echo Show might see itself muscled out of the marketplace.
As with any patent however, there's a strong chance that the blueprints will not result in an actual retail product. The Smart Dock could very well join the long list of approved concepts in Apple's patent war-chest that never sees the light of day.