Apple is looking for a London-based intern to help bring its Apple Pay system to the UK and Europe.
Posted on the company's UK website on 17 December, the job vacancy is looking for a candidate to "drive business development activities" and execute multiple NDAs (non-disclosure agreements) and contracts with third party partners, thought to be banks, credit card issuers and retailers.
UPDATE: As of 11:45am on 18 December, the job listing has been removed without explanation.
The successful candidate will work with a new London-based Apple Pay team to drive the roll-out of the service across Europe, the Middle East, India and Asia by working with card issues, payment networks and merchants. The 35-hour-a-week job is based at the company's Hanover Square office in central London, just around the corner from its flagship Regent Street store.
Apple Pay was announced alongside the iPhone 6, 6 Plus and Apple Watch in September and is now available in the US, but isn't expected to arrive in the UK and Europe until 2015. In the meantime, Apple will be negotiating with banks, credit card companies and retailers to make sure Apple Pay is widely available in other countries from day one.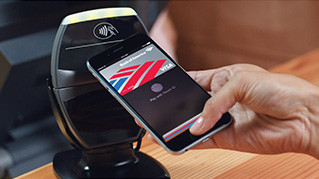 The system uses NFC in the iPhone 6 and upcoming Apple Watch to make wireless payments at the point of sale in physical stores, and can also be used online; payments are kept secure by using the iPhone's Touch ID fingerprint scanner. In the US, Visa, MasterCard and American Express are signed up to the service, plus more than 200,000 vendors.
A bachelor of arts or science degree is a must, although a law degree is preferred, and the candidate must be familiar with legal and financial jargon.
Earlier this week, it was claimed Samsung is discussing a deal with payments startup LoopPay to launch a rival money transfer system next year. The system would see users pay for goods in physical stores by waving their Samsung phone at the till instead of paying with cash or a credit card. If a deal can be put into place quickly, the technology could launch alongside Samsung's next flagship phone, expected to be called the Galaxy S6 and coming in the first half of 2015.