Apple will launch its Apple Pay system in the UK on 14 July, letting iPhone and Watch owners pay for goods without using cash or their credit card.
Already available in the US, Apple Pay works using the same contactless technology as many new credit and debit cards, and Oyster cards. Users can touch their iPhone or Watch against a chip-and-PIN terminal to make payments of up to £20.
Apple is yet to say exactly when the system will be switched on, but leaked memos from several retailers all claim the 14th will be the big day. One such memo from Waitrose was published by the ever-reliable 9to5Mac.com. It states that an implementation guide teaching staff about Apple Pay was made available on 3 July, and the service will go live on the 14th.
Unlike contactless bank cards, Apple Pay with an iPhone 6 requires the user to confirm which card they want to pay with (multiple cards can be added to the system), then authorise the transaction by pressing a finger or thumb on the phone's Touch ID sensor.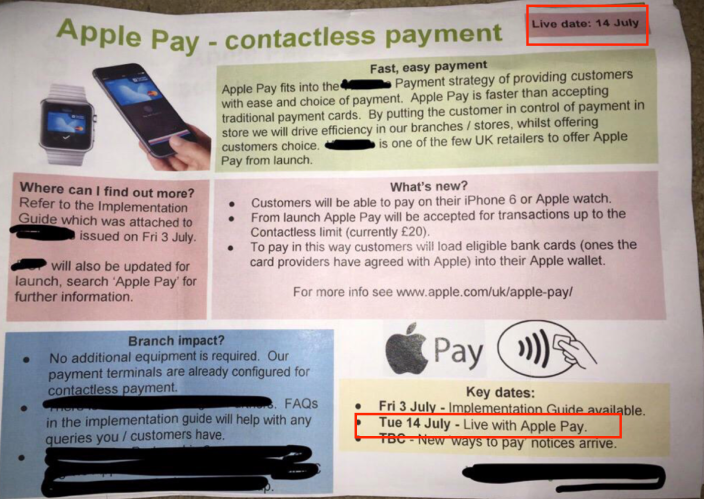 Will Apple Pay be fast enough?
This process is fast enough for payments made in supermarkets and in pubs or restaurants, but will be significantly slower on the London Underground, where passengers tap their card against the barrier while walking through. Needing to confirm which card you want to pay with – then pressing Touch ID – will undoubtedly slow this process down.
Apple is yet to confirm if Transport for London payments will work differently from elsewhere. Speaking to IBTimes UK, Jeremy Nicholds, who is the director of mobile at Visa Europe, explained how 'pre-arming' Apple Pay will partly speed this up. "If there is a line, you can 'pre-arm' your phone before you get to the turnstile, opening Passbook, and selecting your card (your phone will be awake with this for 60 seconds) – then scanning with Touch ID when you get there," he said.
Apple Watch wearers will have an easier time, as touching it against the terminal or turnstile is all that's required to make the payment – providing the Watch is currently paired with an iPhone in the wearer's bag or pocket. It is understood that UK iPhones are ready to use Apple Pay and a software update will not be required. Mastercard told IBTimes UK that once Apple gives the green light, it can switch its Apple Pay systems on "in a couple of days".
Despite the extra level of security, payments through Apple Pay are limited to £20, the same as contactless card payments. This limit will be raised to £30 for all UK retailers in the autumn, but some will be required to install new payment hardware to implement the new limit. The new hardware will let retailers set any limit they like for Apple Pay, but only with approval from Apple.