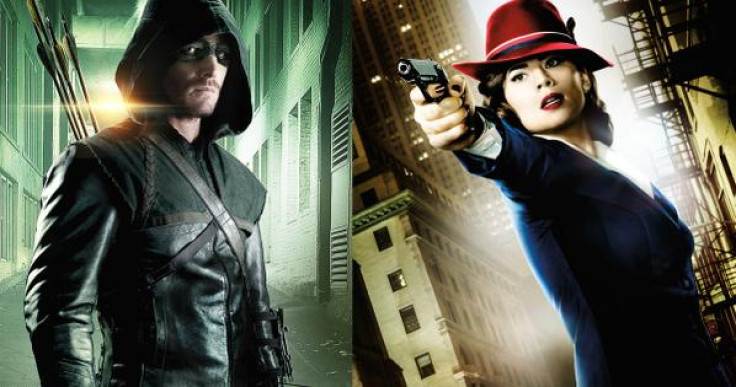 After an epic Arrow and The Flash superhero team up, will fans get to see a crossover between The CW's Arrow and ABC's Agent Carter.
Arrow executive producer Marc Guggenheim, who is the husband of Tara Butters, the co-showrunner of Agent Carter, along with Agent Carter writer Michele Fazekas, sat down for an interview with the Hollywood Reporter to discuss a Marvel-DC universe crossover.
The producers teased the idea of a crossover between the shows, and if they could convince the networks their plans could bear fruit.
"Would Oliver time travel back to her? Because my immediate answer is no," Fazekas told The Hollywood Reporter.
"Not that I don't love time paradoxes and time travel stories, but for whatever reason, with Peggy Carter I don't want to do time travel stories. So if it's your Arrow and our Peggy Carter, I can't see a world that you would be able to do," he added.
"Unless you did two parallel stories in two different times, in which they're like The Notebook or something," Butters added.
The Arrow producer seemed confident of moving ahead with the idea.
"I would love to. I always love a challenge. I love doing something crazy outside the box. I think part of the challenge is the time, but also making the two tones work. It's like super challenging. But yeah if we did something like The Notebook," said Guggenheim.

Meanwhile, Arrow season 3 welcomed The Flash (Barry Allen), to help Oliver Queen hunt down a villain.
Before that, Stephen Amell's Arrow visited STAR Labs for the eight episode of the Flash and contained a possessed Barry Allen.
What do you think of Guggenheim's idea of the Arrow crossover with Agent Carter?
Here are a few fan tweets on the epic mashup:
Wtf the producers are hinting that it's possible for an Arrow and Agent Carter crossover episode? But how?

— Im YOONAfen Huynh (@natthn) January 7, 2015
An #Arrow/#AgentCarter crossover? Nevermind the fact that they live in separate time periods or UNIVERSES for that matter! — Stefan Gural (@StefanGural) January 7, 2015
@mguggenheim r u an idiot to make crossover with arrow and agent carter? NOOO, u idiot arrow is future and carter is past! no marvel with dc

— ▲Jose Gorilla▲ (@JoseGorilla) January 7, 2015
Peggy Carter team up or butting heads with Oliver Queen would be awesome time travel crossover. @CW_Arrow @AgentCarterTV @mguggenheim — BATMAN (@Batmancanseeyou) January 6, 2015
"If it was possible to do an Agent Carter-Arrow crossover, would you want to do it? And what do you think the story should be?"

— تنزل (@tanzilastop) January 5, 2015