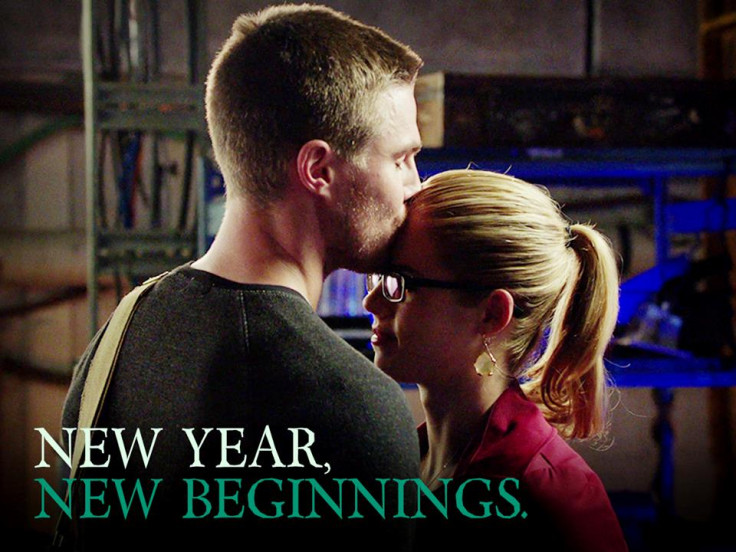 Oliver and Felicity's relationship has been on a roller-coaster ride in Arrow season 3.
In the season 3 premiere episode, Oliver had asked Felicity out on a date which ended in a disaster as an explosion saw the IT genius being injured. After this, the couple decided to maintain some distance and focus on making the world a better place.
However, in a later episode titled Draw Back Your Bow, Oliver sees Felicity kiss Ray Palmer and things changed from thereon.
In the mid-season premiere, Oliver confessed to Felicity that he loves her and goes ahead to fight Ra's al Ghul in a "trial by combat".
Throughout the season, Felicity has been suppressing her feelings about Oliver, who was stabbed and pushed off a cliff by Ra's al Ghul. However, new reports suggest that the Green Bow will return later in the show and Felicity will be more vocal.
"She speaks up!" executive producer Andrew Kreisberg told TVLine. "She definitely speaks up, but not quite in the way I think people are expecting. She has a lot of strong feelings."
The scene that takes place at the end of episode 12 is "probably my all-time favorite Emily Bett [Rickards] performance," Guggenheim teased.
"She is so, so, so, so incredibly strong in that scene, it's ridiculous," he added.
For the would-be couple, "This season is really about them saying all the things they've never said... after two years of teasing each other," Kreisberg added.
According to him, "Where that takes them is to some tough places, but also to some right places. The how and the why and the when and the where of that is the fun in the back half of the season."
Arrow returns from its winter hiatus this Wednesday, 21 January at 8pm ET on The CW.
A new promo titled Inside: Left Behind, has been released by the CW.
In the promo, executive producer Marc Guggenheim teases the three-part trilogy featuring the villain, Danny 'Brick' Brickwell (Vinnie Jones).