With Manchester United edging towards a record 20th league title, Manchester City possessing a healthy cushion in second while Reading and Queens Park Rangers continue to slip in the relegation abyss, few outcomes are still be settled in this season's Premier League.
The final relegation place, a battle between as many as six different sides is likely to go to the wire, as well the race for the final two Champions League qualification places for next season are yet to be known, and it's at the top end where the most intriguing fight remains.
Four sides remain in the battle for that Champions League place with the current occupants Chelsea and Arsenal setting the pace ahead of Everton and Tottenham Hotspur, with merely a handful of games to go.
Both Chelsea and Tottenham have a game in hand over the other pair, but against each other while both the Blues and Arsenal face the champions elect United before the season is out. Everton, having lost once all season at home, take on Chelsea on the final day. IBTimes UK predicts what might occur between now and the end of the season.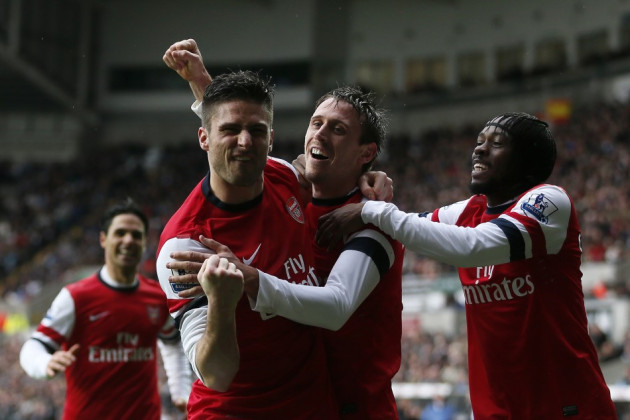 Arsenal
Current position: 4th P 33 GD +29 Pts 60
Fixtures: Fulham (a), Manchester United (h), Queens Park Rangers (a), Wigan Athletic (h), Newcastle United (a)
IBT Prediction: Fulham 0-4 Arsenal
Arsenal 1-0 Manchester United
Queens Park Rangers 1-2 Arsenal
Arsenal 3-1 Wigan Athletic
Newcastle United 0-2 Arsenal
Final Position: 3rd P 38 GD +39 Pts 75
Chelsea
Current position: 3rd P 32 GD +31 Pts 61
Fixtures: Liverpool (a), Swansea City (h), Manchester United (a), Tottenham Hotspur (h), Aston Villa (a), Everton (h)
IBT Prediction: Liverpool 2-2 Chelsea
Chelsea 2-0 Swansea City
Manchester United 1-1 Chelsea
Chelsea 2-1 Tottenham Hotspur
Aston Villa 1-2 Chelsea
Chelsea 2-0 Everton
Final Position: 4th P 38 GD +37 Pts 75
Everton
Current position: 6th P 33 GD +14 Pts 56
Fixtures: Sunderland (a), Fulham (h), Liverpool (a), West Ham United (h), Chelsea (a)
IBT Prediction: Sunderland 3-0 Everton
Everton 3-1 Fulham
Liverpool 2-0 Everton
Everton 1-1 West Ham United
Chelsea 2-1 Everton
Final Position: 7th P 38 GD +10 Pts 60
Tottenham Hotspur
Current position: 5th P 32 GD +15 Pts 58
Fixtures: Manchester City (h), Wigan Athletic (a), Southampton (h), Chelsea (a), Stoke City (a), Sunderland (h)
IBT Prediction: Tottenham Hotspur 1-3 Manchester City
Wigan Athletic 1-2 Tottenham Hotspur
Tottenham Hotspur 2-1 Southampton
Chelsea 2-1 Tottenham Hotspur
Stoke City 0-1 Tottenham Hotspur
Tottenham Hotspur 0-2 Sunderland
Final Position: 5th P 38 GD +13 Pts 67
So Arsenal and Chelsea appear on paper at least, appear to be odds on to remain in the top four. The Gunners face perhaps the easiest run-in of the quartet, against three of the current bottom eight, including two of the relegation favourites in Wigan and QPR.
The visit from United, who could have the title wrapped up by then, represents their most difficult task and despite having won three times in Premier League history at St James' Park, you fancy that when the push comes to the shove on the final day to secure third, Arsene Wenger's men will have what it takes.
Chelsea have it far from easy in the closing weeks of the season, with their Europa League campaign to contend with, but they do hold their destiny in their own hands with four of their final six games against teams inside the top seven. The visit from Tottenham on 8 May will prove most pivotal, but with Spurs having not won at Stamford Bridge for 23 years, Rafa Benitez can rest assured his side will secure a top four birth.
That leaves both Tottenham and Everton on the peripheral. Andre Villas-Boas' side face four of the current bottom nine but it's in the games against City and Chelsea, with a question mark still remaining over the fitness of Gareth Bale, Jermain Defoe and Aaron Lennon, which will prove pivotal and most destructive to Spurs' hopes.
As for Everton, they are likely to feel the full force of Paulo di Canio's honeymoon period at Sunderland this weekend and having not won at Anfield for 14 years, and a four point gap already to make up, the blue half of Merseyside is likely to fall short in their attempts of finishing the season in the top four for the first time since 2005.