Arsene Wenger says he was impressed with Vito Mannone's performance against Manchester City yesterday, even though the Arsenal keeper made a mistake that resulted in the opposition's only goal of the match.
Wenger has been changing up the goalkeeping line-up of late, while Wojciech Szczesny continues to recover from injury.
Mannone has been very clear about his ambitions to take the number one position for Arsenal and hold onto it, and so far his performances for the Gunners have been promising as the side made a great start to the season with commanding wins over Liverpool in the league and Montpellier in the Champions League.
And despite his mistake costing Arsenal a goal yesterday, as City scored from a set piece, Wenger says he looks the goods to be a great keeper in the future.
"He had a good game again today," Wenger told the Arsenal website after they drew 1-1 with City at the Etihad.
"He looks very solid. He made a little mistake in the corner [for Manchester City's goal] and was very frustrated with it, but overall I am happy that it didn't affect his game after. I like what he is doing."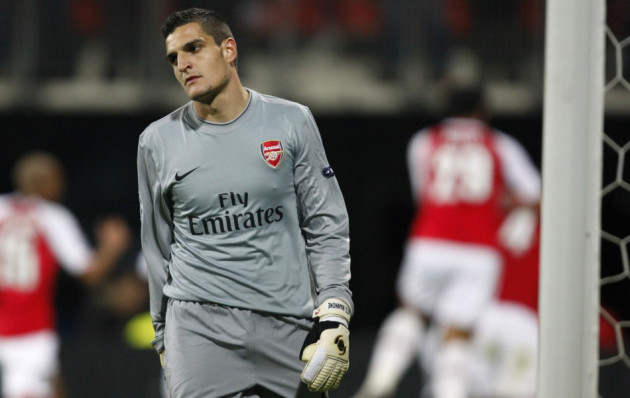 Some criticised Arsenal for their zonal marking when the goal was scored, but Wenger insisted that there were a lot of positives to come out of the game for the club, despite not taking maximum points.
"I take this criticism on board because we conceded the goal from a corner, but Man City are the team who score more goals than anyone else from set pieces," he explained. "On the other hand it is true we missed chances, but when you have the basic quality that we showed today, the rest can improve."
Thomas Vermaelen was left out of the side for the trip to Manchester, with Laurent Koscielny taking his place.
And Wenger said that this gave him some reprieve as he considers which defender to use between Koscielny, Per Mertesacker and the captain.
"He had 'flu yesterday, and we left him at home," he said.
"But Laurent Koscielny had a great game and stepped in very well.
"We have three classy centre backs, and it is a very difficult choice. Koscielny, Mertesacker and Vermaelen - no matter who is left out can feel it is not right. But I will rotate them and take into consideration the strikers we will face."