Ashton Kutcher Posts Photo of Mila Kunis Kissing Him on Twitter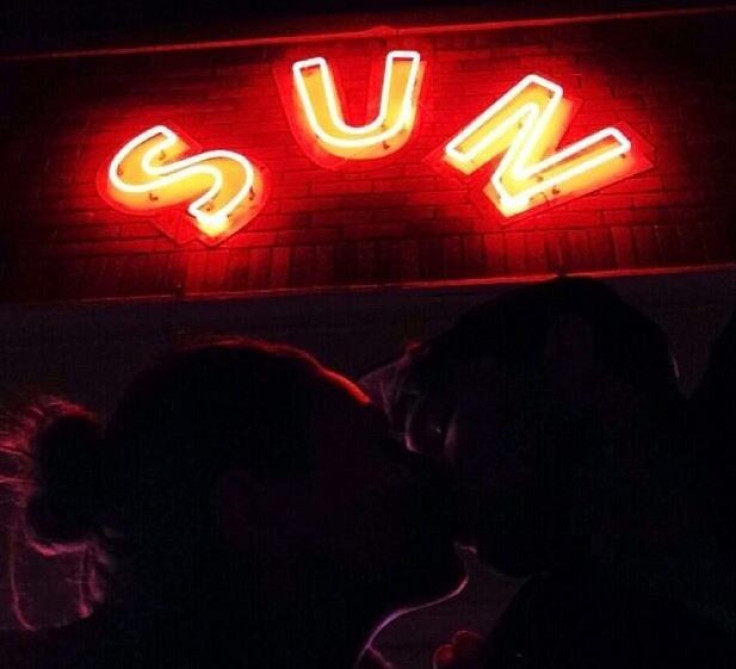 American actor Ashton Kutcher posted a photograph of himself kissing girlfriend Mila Kunis on Twitter.
In the image, Kutcher and the Black Swan actress are seen at Sun Records, under a neon sign that says SUN, in Memphis Tennessee, with the Two and a Half Men star writing "Sunset #nofilter".
This post comes after the two, who played characters Michael Kelso (Kutcher) and Jackie Burkhart (Kunis) on hit sitcom That '70s Show, were spotted in Florida at her brother, Michael Kunis's wedding.
Michael tied the knot with ballet dancer Alexandra Blacker, at the Cathedral Church of Saint Peter. Blacker trained Mila to play a ballerina in 2010's Black Swan. The couple got engaged in December 2012 in San Diego.
"Ashton was welcomed by Mila's family," an eyewitness told Us Weekly. "They seemed very comfortable together. He watched the ceremony from the front row and never took his eyes off of Mila."
"They definitely treat him like a family member," the insider added. "He was holding Mila close, and they both had huge smiles on their faces. Ashton had his arm around Mila at all times and was always checking in with her. They did some goofy poses, too, and they seemed to be having a lot of fun."
Kutcher and Mila are hoping to get engaged as his divorce from Demi Moore was finalised recently. The 50-year-old actress filed for divorce in November of 2011 after Kutcher reportedly cheated on her with 23-year-old student Sara Leal.
"Ashton and Mila have talked about getting engaged and married for quite a while," a source close to Kutcher told People. "He wants to get engaged during the holidays."
© Copyright IBTimes 2023. All rights reserved.