An Aston Martin racing car which once competed in the 1949 Le Mans race could sell for more than £1m at an auction later this month. The car, which was stolen from a collector in the UK 14 years ago, was recently recovered from a lock-up in the Netherlands and restored.
The car, a rare prototype DB2, was stolen in 2002 and was only recovered in April this month. Its owner at the time, Christopher Angell, died before it could be found, meaning that Hertfordshire Police returned it to a relative.
One of three Aston Martins entered into the world-famous 24-hour endurance race, it was tracked down to a storage facility in the Dutch city of Eindhoven. Two men – Bert Anton Visser, now aged 64, and Heerke Jan Visser, 53 - were convicted in 2003 of stealing the car from the garden of a property in Baldock. The judge allowed them to be bailed and ordered to come back for sentencing at a later date, and to return the car, but the two never returned and remain at large to this day.
The car will be auctioned unrestored at Bonhams' Goodwood Festival of Speed in West Sussex later this month, as its new owner Ashley Mack can't afford the cost of specialist restoration, which could run into "many thousands". Mack said that his relative was "devastated" by the theft at the time.
"Just before he died in 2003 he was still asking 'has that nice policeman got my car yet?'" he said. "Even at this stage my heart will be pleased if it doesn't sell, but my head has to acknowledge that it will cost many thousands to restore."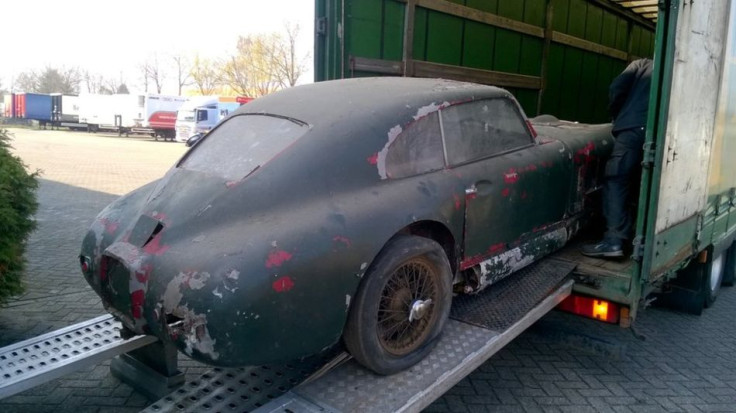 Detective sergeant Jo Goodson travelled to Holland with other Hertfordshire police officers to recover the Aston Martin. They had been alerted by solicitors that it had been put up as collateral for a loan. She told the Press Association: "It was extremely satisfying. It was quite emotional because it's a lovely car with an exceptional history."
Officers are still on the lookout for the two thieves, and are asking anyone with information regarding this case to contact Hertfordshire Constabulary using the non-emergency number 101, quoting crime reference number G4/02/655.