Atomic Kitten star Natasha Hamilton has spoken out against critics who have labelled her a "4x4 mum" for having four children by four different fathers.
She says that whilst it might not be the situation she imagined herself in when she was younger, her decisions have always been made with her family in mind – and that she wouldn't change the past.
Talking to The Mirror, the 32-year-old revealed that she does "get people saying nasty things because [her] children have different dads" but she feels she "would have been a worse mum staying in relationships that were detrimental to [her] and [her] children's happiness.
"Sometimes you have to walk away. I stand by all my decisions and feel I made the right ones," she told the publication.
"I've realised you can do all you can to make your life right and it's not always down to you, it's down to the other person and you can't control them.
"Is it what I wanted out of my life? No, of course not. But I have my lovely sons and now a daughter and you just have to stop dragging the baggage of the past around with you and move on."
Hamilton had her first child, 12-year-old Josh with her first love, nightclub owner and former Westlife bodyguard Fran Cosgrove who she met when working in the music industry.
The couple soon split after Josh was born and whilst touring, Hamilton met and found romance with dancer Gavin Hatcher. The pair dated for two years and had a son together, Harry, in 2005.
In 2007, Hamilton went on to marry businessman Riad Erraji and after suffering a miscarriage, welcomed her third son Alfie in 2010.
She had her fourth child, daughter Ella, in late 2014 with current boyfriend Ritchie Neville, who used to be a member of boyband Five. But despite first meeting each other as teenagers, the Whole Again singer has insisted that the couple didn't find love until much later when they met again whilst taking part in ITV2's The Big Reunion show, with their respective bands.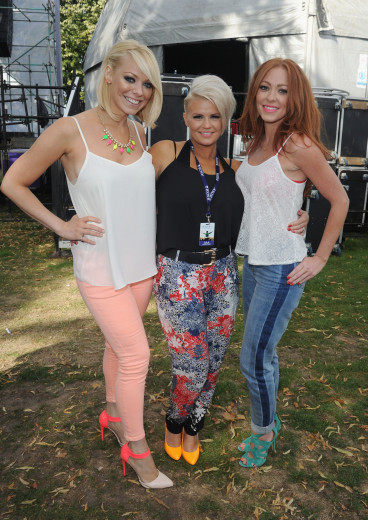 "I don't fall in love willy-nilly," Hamilton revealed when asked about her past relationships. "There has to be something special and there was with me and Ritchie. But I certainly wasn't looking for a relationship after separating from my husband.
"I felt it wasn't the right time and I was very wary. I hadn't seen Ritchie since I was 16 and never fancied him then. I thought the boys in Five were arrogant and he thought we were gobby Northerners."
However, despite those less than endearing first impressions, she confessed that the duo soon starting becoming fond of one another once the show stopped filming.
"For a while, we were friends bantering," she recollected. "When the tour ended, we began writing music and I found myself falling in love.
"I hope with all my heart this time it's forever and the happy-ever-after ending I've always wanted.
"I don't think I've ever been as happy and secure. I've never had a relationship before where I was able to talk so honestly and openly about my feelings. He's been through a lot, like me, so we seem to understand each other."
Atomic Kitten split in 2004, but inspired by their time on The Big Reunion had intended to tour this year. However, they have recently revealed that that is no longer the case and they will just be making a series of appearances as a group from now on.
"I feel as long as I can continue working and doing the best to support my family, that's all I can do," Hamilton, who has just been involved with launching new online children's show Herbie Hound, stated.
All ten episodes of the programme are currently available to buy at herbiehound.co.uk, with story books under way. Part of the proceeds will go to the Dogs Trust and Birmingham Children's Hospital.