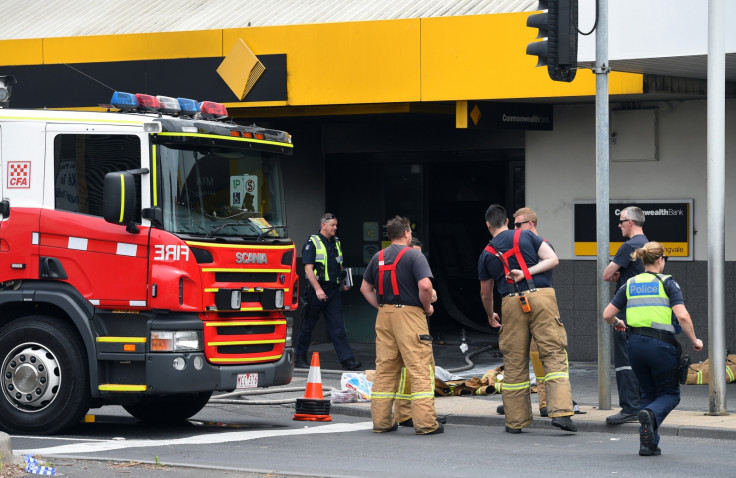 At least six people are in a critical condition after a 21-year-old man allegedly set fire to a Commonwealth Bank branch in Australia's Melbourne city. Witnesses reportedly said a bomb blast at the front of the bank triggered the fire, but the state police are yet to confirm the cause of the sudden blaze.
The incident took place on Friday, 18 November, at around 11.30am local time (0.30am BST) in Springvale, leaving scores of people wounded, police inspector Jacqui Poida of Victoria Police said. Police have kept a severely injured man — suspected to have caused the fire — under guard in a hospital.
"He had with him some sort of accelerant, he walked into the bank and he lighted that accelerant which caused some sort of fire within the bank, he set himself alight with that fire and there was a number of other people within the bank at that time that received injuries as well," the police inspector was quoted by the Australian Broadcasting Corporation as saying.
She added: "He left the bank, police attended shortly after and assisted him, followed by ambulance who also attended to him at the rear of the bank."
Meanwhile, State ambulance service, Ambulance Victoria, said in a tweet that it treated 27 people. "Six people have serious burns. 21 others including three kids have breathing problems & are stable," the message read.
Ambulance Victoria's Andy Roughton reportedly said they had to escalate the incident "to the highest level of our emergency response plan".
The Country Fire Authority's Paul Carrigg said the fire appears to have been caused by a flammable liquid, but it is still unclear what it was. He added that there has been an explosion in the bank that led to the fire.
"To be honest, firefighters haven't observed the container of fuel, but then again we haven't gone in search for it, it is a crime scene," he noted.
However, the state police said they could not confirm if the fire was preceded by an explosion.
"The information I've got is there was a male person that attended the Commonwealth Bank. He had some sort of accelerant with him. A container, not sure what he had. And somehow that accelerant was used inside the bank," Poida said.
She called on witnesses to contact Crime Stoppers to share details, if any, about the incident.
ABC quoted a witness, Ashley Atkin-Fone, as saying that he saw a man place an object at the bank's entrance. He said he thought it was a bomb.
"The blast went off at the front entrance, where the two ATMs are, he's put the bomb in there, it's gone off and a few people have got caught out — this one poor kid he was in a bad state.
"He came running across here, he was bloody and everything else, there were two women ... they got hit as well, and there was one who kept walking up and down, his face was black.
"All I could see was all this black smoke, it was an absolute mess at the front of the shop, it was terrible, all the glass shattered, it wasn't good," Atkin-Fone reportedly said, adding that he immediately rushed towards the victims to put out the fire.