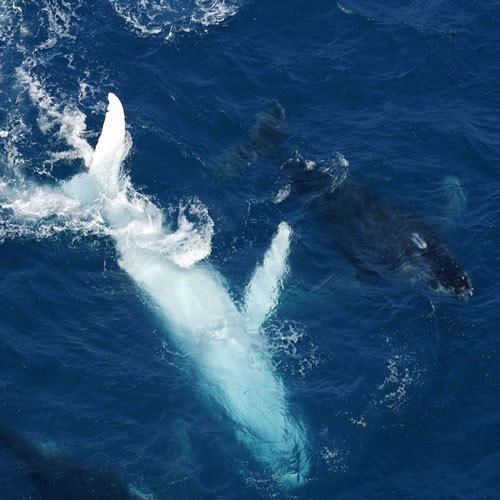 Red marks have been spotted on an extremely rare white whale while he was making his way to Australia's east coast.
The humpback, named Migaloo – Aboriginal word for "white fella" – is feared to have skin cancer.
White Whale Research Centre founder Oskar Peterson said photos taken by whale watchers near Sydney show red markings on Migaloo's dorsal fin.
"It shows yellow pigmentation of its skin and that's natural, that's just an algae bloom," said Peterson, who runs Migaloo.com.au.
"But it's the red rash around his dorsal fin that's got us a bit concerned.
"We're just hoping that as he goes further up into warmer waters other people send in their photos so we can ascertain whether that's a serious issue or not."
Migaloo was believed to be the only all-white whale until 2011, when a white whale calf - named Migaloo Jr - was found.
The white whale has been granted "special status": watchers cannot be closer than 500 metres from the animal and they are subjected to heavy fines if they breach the law.
Migaloo is part of the East Australian Humpback population.
According to 2011 statistics, there are an estimated 14,000 - 16,000 whales in the species.