Australian police have carried out a series of meth busts in the last week, impounding drugs with a street value of more than A$1bn (£614m). Dozens of people have been arrested in Melbourne and Sydney in a series of raids as officers swooped in to mop up several large-scale production organisations.
Twelve people between the ages of 19-32 were arrested in six Sydney suburbs on Friday night, appearing in court in the city's Parramatta district on Saturday. All were refused bail. More than 100 officers were involved in the raids, as riot and dog squads were called in to capture large amounts of cash and methamphetamines, which go by the street name of "ice".
Acting superintendent Leanne McCusker told a press conference that her force expected the street value of the seized narcotics would be "in the millions".
"This strike force demonstrates that drug supply is a problem across Sydney and police will continue to investigate drugs across the Sydney area," she added.
In Melbourne, meanwhile, five men were jailed on Tuesday after police found a huge stash of meth hidden in shipping containers sent from China to Australia. They had been charged with drug trafficking and possession offences following raids which uncovered 275kg of the substance at several properties in the city.
The street value of the bust, which had been divided into 275 1kg parcels was estimated at A$275m (£160.75m). Customs officials first found the substance hidden in the containers in June, and in a controlled operation, allowed them to be delivered in order to monitor who accessed them and where they lived.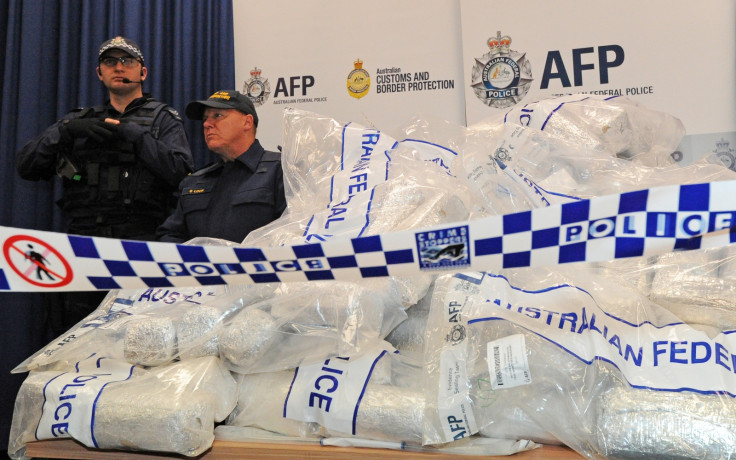 Victoria Police assistant commissioner crime command Stephen Fontana said tracking the containers led to the discovery of several alleged drug rings.
"In effect, what you've got is a major wholesaler has brought it in and then we've had a number of other syndicates involved that distribute it and we've identified two of those different groups through the arrests we've made," the state of Victoria's assistant police commissioner Stephen Fontana told a press conference.