It is now official. Singer Avril Lavigne is engaged to Canadian rock band Nickelback's lead singer, Chad Kroeger. The two have been dating for six months and Lavigne has now been photographed, along with Kroeger, flaunting a 14 carat diamond ring on the cover of Canada's Hello! Magazine.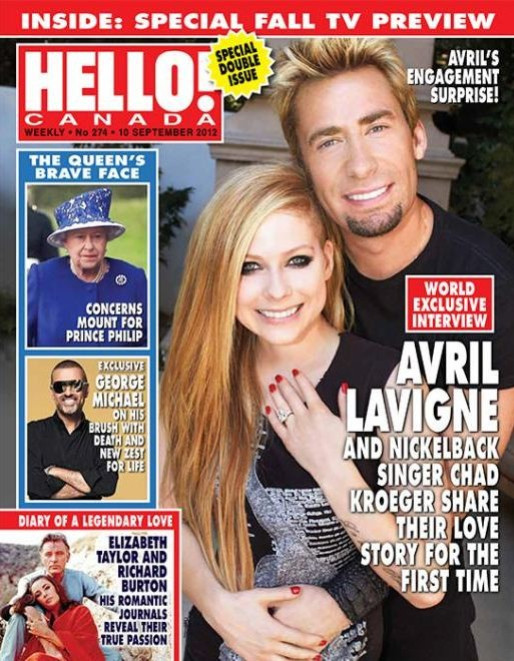 The Complicated singer said she fell for Kroeger's sense of humour and admitted she loved that her 37 year old beau made her laugh, adding that he was extremely attentive to her every need. Kroeger, in turn, said he fell in love with the 27 year old after the two spent time together working on album. He described the feeling as being unforgettable. The two met in February, when working on a track for her fifth studio album.
Meanwhile, friends close to the couple said the two appear perfect for each other, particularly since they share similar world-views and beliefs. A source has been quoted, in People magazine, as stating the two had the "same values and really understood each other in People magazine.
The couple has yet to announce a date.
Meanwhile, Kroeger's band - Nickelback - has posted congratulatory messages on its Web site and Twitter account. The messages were re-tweeted by Lavigne to her six million followers.
Finally, the proposed union also has the blessings of the singers' families.
"He makes her so happy," a source was quoted in another People magazine report, "Both of their families could not be more excited."
This will be Kroeger's first marriage and the second for Lavigne. The What the Hell singer was previously married to Sum 41 frontman Deryck Whibley. The two were married for three years before divorcing in 2009. She has also been romantically involved with American reality star Kim Kardashian's step-brother Brody Jenner. Kroeger spent six years with Marianne Goriuk, a former Alberta hair salon owner.
Lavigne shot to fame with her 2002 album Let's Go and also gave hit singles including Sk8er Boi and I'm With You. Her last album, Goodbye Lullaby, came out in 2011. Kroeger has been with Nickelback, as the band's lead vocalist and guitarist, since 1995.