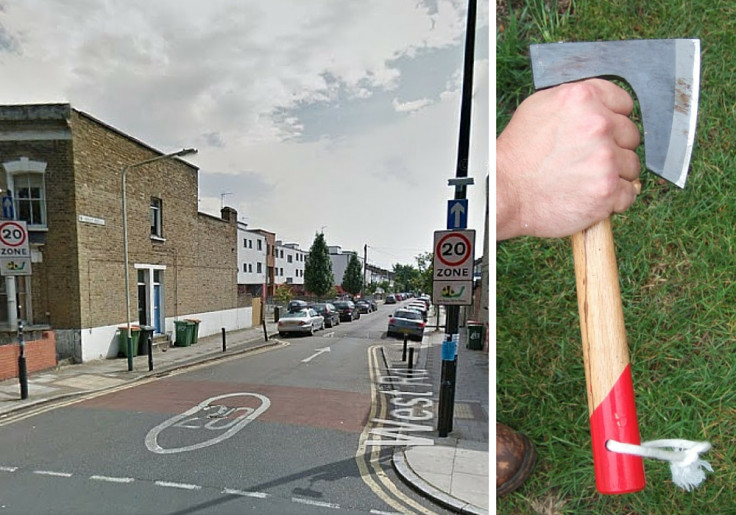 An angry axe-wielding motorist confronted a man with a knife after a stormy road rage row in London. On 31 May the two men were pictured leaping out of their cars and confronting each other in broad daylight in Stratford, east London.
The pair seemed to have no qualms about brandishing their chosen weapons in the middle of the road in what appeared to be a particularly scary incident. A man, travelling in a blue hatchback was pictured waving an axe menacingly at a passenger of a green vehicle travelling in front of him.
In turn a man leapt out the back seat of the car brandishing a knife with a large pink blade in his right hand. The pair were said to have faced-off in the middle of the road for a few minutes before driving off.
The incident was said to have happened at around 1pm on 31 May in West Road. As the confrontation heated up photographer Mitchell Gunn said he heard a commotion outside his window.
He told the London Evening Standard he did not see the start of the row but did manage to snap the aggression that came afterwards. He said: "Being an ex-military policeman I always keep my eye out to make sure there's no suspicious characters around. I was downstairs and heard a noise like an argument.
"I saw a man brandishing an axe, walking towards another guy. As soon as I saw the axe, I picked my camera up and fired off a few frames."
The 48-year-old added that no one was hurt in the incident. He added: "It's not the kind of thing I want to see in my street. It really gets my back up, I took the pictures for evidence."
A Scotland Yard spokesman said: "Police were called on Tuesday, 31 May at 12:51 hours to West Road junction with Portway, E15 to a report of a disturbance involving people armed with weapons. Officers attended and found no trace of a disturbance. No persons were found to be injured at the location."