A German drinks company is continuing to use stricken Formula One legend Michael Schumacher to flog bottled water while he lies unconscious in a coma.
Hassia drinks giant claimed it had "reacted immediately" to stop the image of the seven-time world champion from forming part of a PR campaign in January.
The pledge came after the German spa water producer landed in some hot aqua by using an image of Schumacher clutching a football in advertising in a German football magazine.
But IBTimes UK discovered the same poor taste image of the German racing ace was still in use by Hassia long after it claimed to have purged it from promotions - this time on its own website two months later.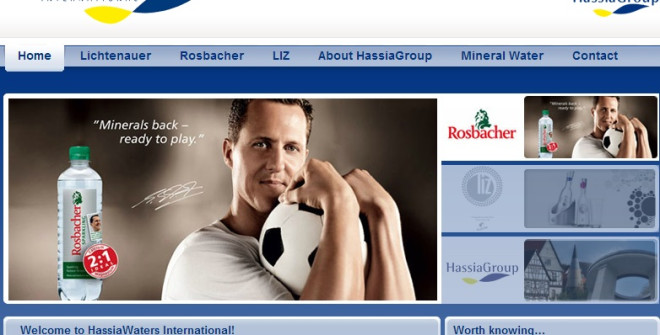 Explaining the gaffe the first time round, Hassia claimed it had not had time to pull the image from print magazines, after Schumacher crashed on the ski slopes of Meribel, in the French Alps late last year.
Responding to criticism that the advert was in bad taste, a spokesman said: "We reacted immediately after the accident, cancelled radio and TV commercials as well as all print and outdoor ads.
"We could not, however, replace at short notice the pre-press advertisements."
But surely no such concerns apply to Hassia's own website, where it can reasonably be assumed the firm is in control of published content? Yet the image was still there for the whole world to see online on Monday.
The continuing presence of the image of Schumacher on its official website posing next to a big bottle of branded water flies in the face of Hassia's own explanation of what went wrong.
Hassia brags about being guided by "a strong sense of family" from its headquarters in the spa town of Bad Vilbel in Hessen, Germany. Its mineral waters have previously won awards.