'Barbaric' burglars get life for torturing elderly couple with boiling water
Daniel Wallace and Kacey Adams sentenced to life for subjecting Kent husband and wife to 'horrific ordeal'
Two men have been jailed for life for torturing an elderly couple with boiling water during a burglary at their Kent home. Daniel Wallace, 33, and Kacey Adams, 34, admitted to aggravated burglary and two counts of grievous bodily harm after subjecting their victims to the "most horrific ordeal".
Last April, the pair broke into the home of John Buswell, 66, and his 64-year-old wife Janis on London Road in Halstead.
Once inside, the pair tied up and tortured the couple for nearly two hours by pouring boiling water over their heads and bodies from a kettle, as well as beating them with a knife and hot iron.
The attack left Mrs Buswell with 30% burns to her body, requiring several months of treatment in an intensive care unit.
In a victim's statement read out in court, Mrs Buswell said: "What these criminals did to me was barbaric.
"This will affect me every day for the rest of my life. The injuries I have suffered have left me permanently disfigured.
"I now have no confidence in myself and feel worthless and can't even do the simplest of things."
Adams and Wallace eventually fled the home with more than £50,000 ($62,000). The pair then took a flight to Dubai from Heathrow Airport.
During the investigation, Wallace's DNA was recovered from the scene after he used a cup to provide water to his victims before smashing it against a wall. Adams and Wallace were arrested on 31 May 2016 as they flew back to the UK later with more than £18,000 of luxury goods in their luggage.
Both men appeared before Maidstone Crown Court to plead guilty to the charges relating to the Halstead burglary. In a separate case, Adams and Wallace were also previously convicted of conspiracy to commit murder after a man the loss of sight in one eye after surviving a shotgun blast in Essex on 10 May 2016.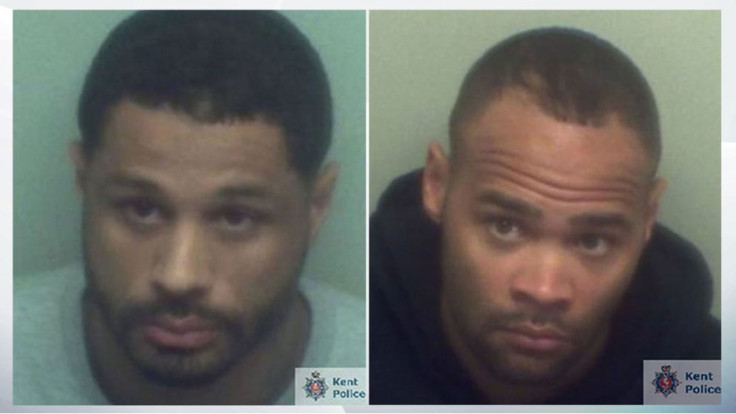 The pair have now been sentenced at Chelmsford Crown Court to three life sentences – each to run concurrently – for all the offences and told they must serve a minimum of 12 and a half years before they can be considered for parole.
A third offender connected to the Halstead break-in, Drew Morris, 27, was not in the house as the victims were being tortured. He was jailed for four and a half years, having previously pleaded guilty to a charge of burglary.
Detective Inspector James Derham, of the Kent and Essex Serious Crime Directorate, said: "Adams and Wallace smashed their way into the home of two elderly people, before subjecting them to the most horrific ordeal. Between them they poured two kettles of boiling water over the woman's head and body and a further kettle over her husband.
'They have inflicted unimaginable pain and distress on two people who had worked hard throughout their lives and were looking forward to their retirement. The gratuitous, barbaric and utterly senseless actions of these two criminals have caused extensive physical and psychological scars to their victims."
© Copyright IBTimes 2023. All rights reserved.