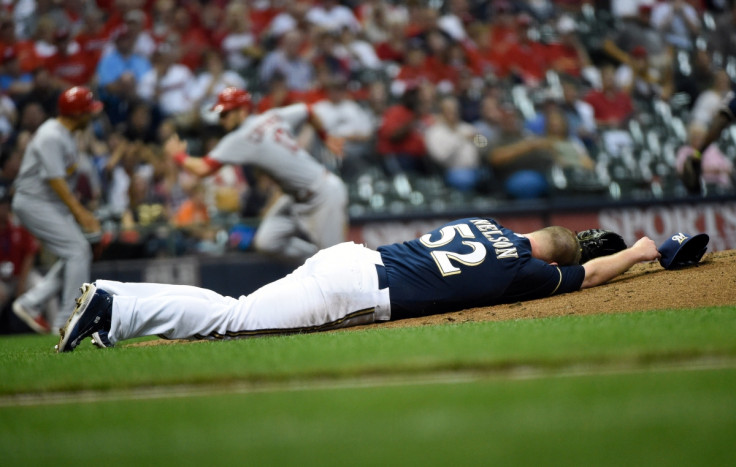 Brewers star Jimmy Nelson has spent a second night in hospital after he was hit in the head by a powerful line drive. The Oregon-born pitcher was hit in the back of the head on Thursday night by a forceful hit from Tommy Pham of the St. Louis Cardinals.
He spent a second night under observation on Friday after spending a number of minutes lying face-down on the mound after the painful-looking strike. But Milwaukee manager, Craig Counsell, said there are no indications that Nelson sustained a concussion and his two-night stay was just a "precaution".
"It's precautionary. They just want to make sure everything is 100% before he walks out the door," said Counsell. Nelson was eventually able to stand and walk off the field and he was sent for tests where a CT scan showed nothing more than a bruise.
"I think he escaped without any serious harm," Counsell said after a 6-3 loss to the New York Daily News. "We're very, very fortunate. It's scary. It's not something you ever want to see."
From the speed of the ball, it was clear that Nelson did not have time to move out of the way of the strike. The ball struck the right side of his head dropping the 6ft 2in pitcher to the floor.
Pham still made it to second base on the play but looked visibly shocked by the incident he then bent to his knees and put his hands over his head fearing the worst for his fellow sportsman. Team trainer and manager Craig Counsell arrived at the mound shortly after the play was over.
Nelson laid on the ground for quite some time but was eventually able to sit up on his knees whilst trainers continued to examine him. Counsell said that he had spoken with Nelson on Friday and said the pitcher was "raring to go" despite his injury and added that Nelson wants to appear on Tuesday in Chicago against the Cubs.
He added that he is confident Nelson will pitch again this season and doesn't expect the accident to affect the right-hander's confidence. "I'm not worried about the mental part of it at all," Counsell said according to the Daily Mail.