A nine-year-old boy has died after being struck on the head by a baseball bat during a top-level amateur match in Wichita, Kansas watched by thousands of spectators. Kaiser Carlile, who was wearing a helmet, was on the pitch as a batboy - carrying and arranging equipment - for a National Baseball Congress World Series game between the Liberal Bee Jays and the San Diego Waves.
According to local media reports, in the process of retrieving a bat Kaiser ran past a player taking practice swings in the on-deck circle. The player failed to see Kaiser and swung the bat - hitting him on the head.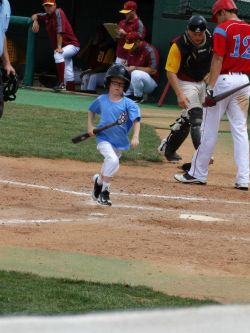 Spectator Malachi Lingg, told CNN affiliate KAKE the batter "didn't see him at all and took a swing right as the batboy went by and hit him right in the back of the head. I felt really bad for the mother - she was right there in the front row and saw it all."
Kaiser reportedly stood up but then fell over again. After being treated by paramedics he was taken to Via Christi Hospital St. Francis in Wichita where he underwent emergency surgery but died on Sunday (2 August). The boy's death was devastating news for the team's players, who had come to know Kaiser well during his time as a batboy.
One player, Kadon Simmons, wrote on Instagram: "Kaiser, you were a little brother I never had. You took the field with us every game this summer. You were, and always will be a Bee Jay. No person or team could ask for a better bat boy."
In a statement released to CNN the amateur club said: "With the permission of the family, and with much sorrow and a very broken heart, I regretfully inform everyone that Kaiser Carlile passed away earlier this evening. Please keep his family and our team in your thoughts and prayers."
A GoFundMe page has been set up in Kaiser's name to help his family.