At least two people were shot and one was stabbed as San Francisco Giants fans celebrated on the streets after their team's World Series victory over the Kansas City Royals. Police spokesman officer Gordon Shyy said the gunshot victims' wounds were not life-threatening, but he didn't have information on the stabbing.
The San Francisco Chronicle reported that the region around Third and King streets was especially raucous, with thousands of fans spraying beer on one another, smashing bottles, lighting fires and setting off fireworks. That prompted police in riot gear to move in.
At one point riot police lined up three rows deep, leading to some people hurling bottles, some hitting officers.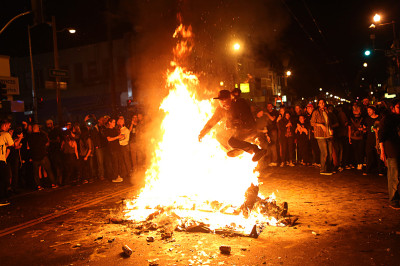 The San Francisco Giants held off the Kansas City Royals 3-2 in Game 7 of the World Series for their third championship in five seasons.
The Giants, who were a 20-1 longshot when 2014 odds were first posted a year ago, won their eighth title and third since moving from New York to San Francisco.