The Batman v Superman special IMAX event which was held on 20 April, showcased some extra footage from the film as part of the trailer.
Fans who knew about this earlier have been speculating as to what these extra few seconds of footage might reveal; a shot of Aquaman all suited up? Wonder Woman in action? A glimpse of Batman and Superman fighting? Well, it's actually part of the latter.
Scene Description
ComicBook website reports that the extra "six or so seconds features a close up of Superman running, then running through something before we get a wide view and you see Batman, charging towards Superman in his armor suit. Batman is charging with his arms out and Superman with a huge fist like in the comics. Just as they are about to clash it cuts and then the Batman V. Superman title comes out."
As a thank you to fans for coming out to the special Batman v Superman: Dawn Of Justice IMAX Event, director Zack Snyder has unveiled a glorious new photo of Ben Affleck's Batsuit. Check it out below: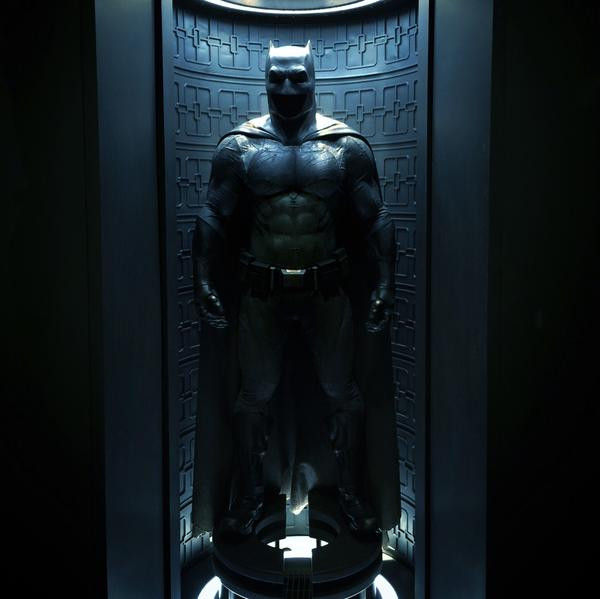 The exciting revelations don't stop here. A new video from sports site Bleacher Report gives us our best, and a very detailed look yet at the new Batmobile!
The website teamed up with the Warner Bros VIP Studio Tour Hollywood to take NBA star and huge Batman fan DeAndre Jordan to see the new costumes which will be worn by Ben Affleck (Batman), Henry Cavill (Superman), and Gal Gadot (Wonder Woman) in Batman v Superman, and the new Batmobile which will soon go on display.
"A lot of interesting new details are revealed about the Batsuit, while Wonder Woman's costume is a little more colourful than originally thought," reports ComicBookMovie.
You can click here to watch the video.
Batman v Superman: Dawn Of Justice is slated to release on 25 March, 2016.
Meanwhile, check out this pretty cool fan-made retro version of the Batman v Superman trailer, featuring Christopher Reeve (Superman) and Adam West (Batman):