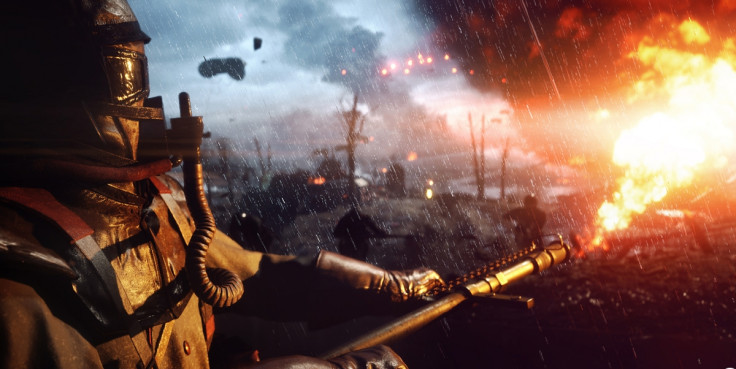 Set in the muddy trenches of World War 1, EA DICE's Battlefield 1 has garnered critical acclaim as the franchise's first title inspired by events of the Great War. However, as is the case with many major releases, the game did come with its share of bugs and glitches.
One Reddit user discovered a spectacular glitch involving one of the game's Behemoth vehicles. Capable of causing huge amounts of damage these vehicles can be a battleship, a train or in this case, a zeppelin.
The video uploaded to Imgur by Reddit user Jessejames106, shows the technical glitch seemingly triggered when a bomber plane flies into a crashing Zeppelin. Rather than simply crashing into the ground, the burning airship bursts into a stunning tornado emitting fiery sparks, setting the skies ablaze before disappearing into a puff of dark smoke.
Another video posted by YouTube Wactical Tank also showed a similar dizzying encounter on the battlefield.
Released on 21 October, Battlefield 1 has been widely praised by both critics and fans, taking players back over 100 years into the brutal throws of WW1 as one of the most anticipated games of 2016.
The historic shooter has already shot to the top of the UK charts, knocking Fifa 17 off of its perch, according to sales monitor GFK Chart-Track, which only deals with physical sales.
Fifa 17 now sits at #2 followed by Mafia 3, Gears of War 4 and Batman: Return to Arkham. The title has already outsold the combined first week sales of both 2013's Battlefield 4 and 2015's Battlefield: Hardline, putting it just behind the first week debut for Ubisoft's The Division that launched earlier this year. EA has yet to disclose the actual sales figures.
IBTimes UK's review of Battlefield 1 heralded the new shooter as a "bold reinvention of the Battlefield series, proving not only that DICE aren't afraid to move in brave new directions, but also that they have a genuine understanding of what makes a Battlefield game really tick".
Battlefield 1 is available now for PS4, Xbox One and PC.