China's warning that the Philippines will be in for "trouble" should its president visit a disputed island in the South China Sea has reportedly compelled Rodrigo Duterte to cancel his plan.
Duterte set off alarm bells when he ordered troops to occupy and fortify the Spratly Islands in the hotly contested waters on 6 April, in a bid to reinforce his country's claims over the disputed territory in the face of increasing military assertiveness by China.
He announced his desire to raise the Philippine flag in the Thitu Island that is owned by Manila on his country's Independence Day on 12 June.
However, on late on Wednesday (12 April) Duterte said he would not visit the island because of his warm ties with Beijing.
"Because of our friendship with China and because we value your friendship I will not go there to raise the Philippine flag," Duterte said in a speech before the Filipino community in Riyadh. He is in the Middle East on a week-long state trip to facilitate trade and investments, Reuters reported.
"China said 'well, in the meantime just do not go there, please?' I said 'yes, I will correct myself because we value the friendship of China," he said. He might send his son instead to visit the islands, he said.
Duterte's earlier announcement on placing troops on the island — claimed by China as well — did not go down well with the communist country. The Chinese foreign ministry warned "there will likely be trouble" if he visited the disputed islands and raised his country's flag.
The abrupt announcement from the firebrand leader had forced Manila's military and defence officials to clarify that Duterte only wanted to upgrade the existing facilities in Thitu Island and not occupy new territories.
Earlier this week, Duterte himself clarified that any future activities by Philippine troops in the Spratlys would be non-aggressive in nature. He told a news conference on 10 April that that he had ordered his military to reinforce areas on the Philippines-controlled islets and not militarise it.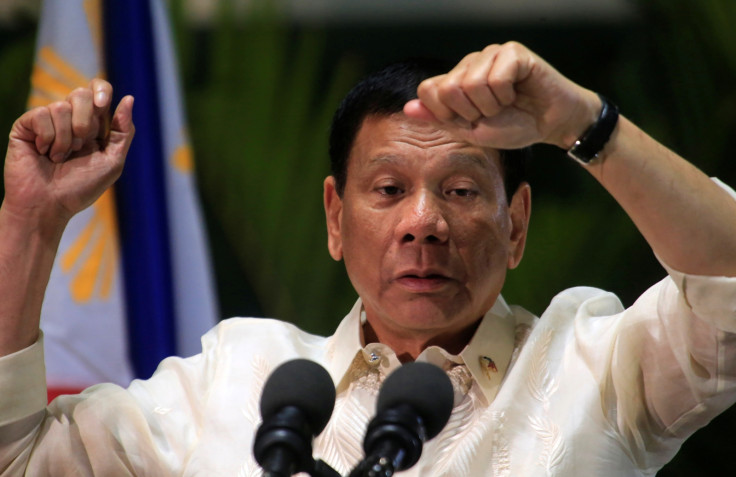 Thitu is the second largest of the naturally occurring islands on the Spratly archipelago and the largest of the Philippine-administered islands. It is close to Subi Reef, one of the seven artificial islands created by China in the Spratlys.