Belfast Riots: Eight Children Arrested as Union Flag Row Enters Third Week [VIDEO]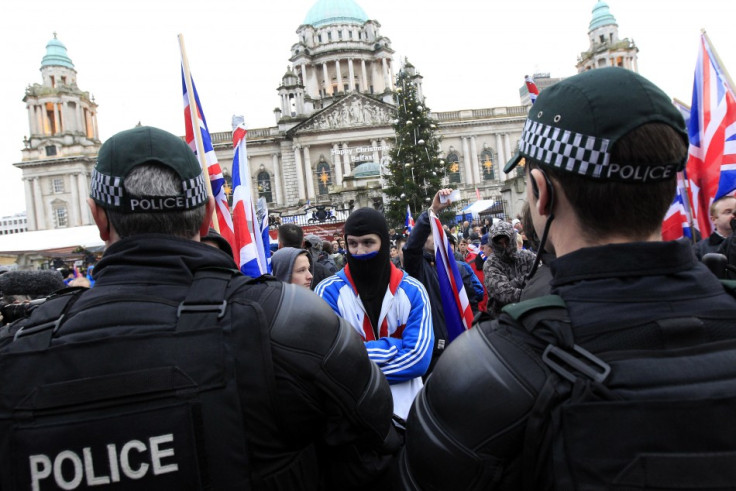 One police officer has been injured and 15 people, including several children, have been arrested during continuing Loyalist protests over the flying of the Union Flag in Northern Ireland.
At least one officer was injured as police were pelted with bricks and missiles in the Sandy Row area of Belfast. Police were also attacked in east Belfast as a group of around 200 protestors gathered at Newtownards Road.
There was further disorder in Carrickfergus, Co Antrim, and Portadown in Co Armagh.
Eight children aged 16 and under were among the 15 people arrested, at the start of the third week of protests against Belfast City Council's decision to restrict the flying of the Union flag outside City Hall to 17 designated days.
A council meeting in Carrickfergus was disrupted as loyalists stormed the town hall. Cross-community Alliance Party councillor Noel Williams said: "They managed to enter the council chamber unhindered without facing any opposition and once inside subjected councillors to verbal abuse, banging on desks and chairs with implements, leaving many feeling threatened.
"It is unacceptable that the town hall was not under police surveillance, especially as violence has broken out at previous protests.
"People have a right to protest peacefully but this incident tonight put many people's safety at risk and must not be tolerated. We live in a democratic society and councillors were meeting tonight as part of this process."
No one was thought to be injured during the latest disruption. However over recent days an Alliance party office has been burned and several council members have received death threats as part of the row to stop flying the flag 365 days a year.
Police also intercepted two explosive devices thought to have been planted by dissident republicans on the eve of a visit by US Secretary of State Hillary Clinton.
PSNI have continued their appeal for an end to the violence as the Christmas period approaches. Assistant chief constable Dave Jones said: "While most of the protests were peaceful, the violence witnessed in some areas tis totally unacceptable.
"This is now the third week of protests and I am appealing to everyone involved to take a step back from this. It cannot and should not continue. There were arrests this evening and more will follow as we now trawl through evidence gathered by officers out on the ground.
"However, Christmas is less than one week away and now is the time to bring this to an end. I am appealing to those wishing to protest to consider how their actions are affecting the wider community who simply want to enjoy the festive period with their friends and families in peace."
Northern Ireland Secretary Theresa Villiers has met leaders of Northern Ireland's political parties to discuss the ongoing row over the flag.
"I have urged Northern Ireland's political leaders to come together to find a way forward to resolve the ongoing protests on flags," she said.
"It is vital that all the parties work together to make progress towards a cohesive and shared society where decisions on issues like flags can be made in a way which respects different views and takes into account the different traditions and identities of modern Northern Ireland."
© Copyright IBTimes 2023. All rights reserved.