Biafra: Nigeria's President Muhammadu Buhari faces criticism for backing Western Sahara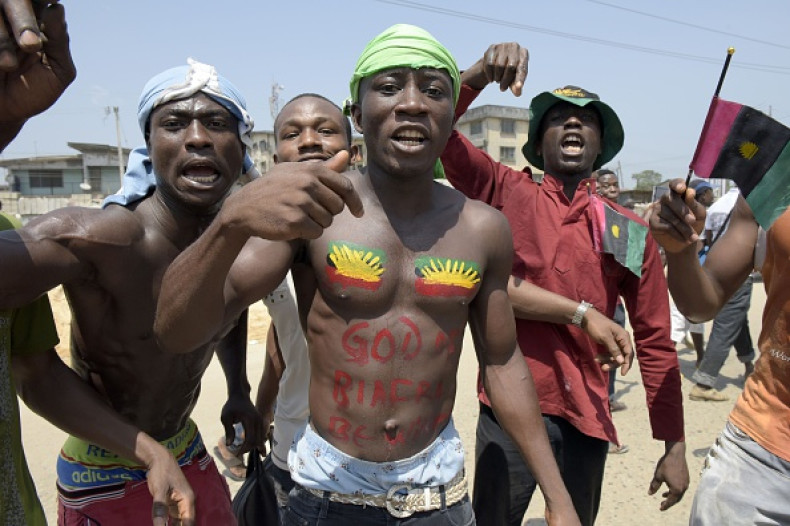 Nigeria President Muhammadu Buhari is facing mounting criticism by pro-Biafran secessionist groups over his support for the independence fight of the Sahrawi Arab Democratic Republic (SADR) in Western Sahara.
Pro-Biafrans demand the independence of Biafran territories forcibly annexed to Nigeria during British colonisation, which ended in 1960. Supporters of the breakaway were angered after Buhari said, in March, that Nigeria would help ensure independence and self-determination for people in Western Sahara.
A Biafran Republic was established in 1967 and re-annexed to Nigeria in 1970, following a civil war that claimed between one and three million lives. Pro-Biafrans, who are routinely holding demonstrations across south-eastern Nigeria calling for independence and the realease of one of their leaders, Nnamdi Kanu, accused the president of being a hypocrite.
Wrong comparison
Following mounting criticism, presidential media aide Garba Shehu told the New Telegraph that a comparison between Western Sahara and Biafra was wrong.
"For anybody to make a comparison between Western Sahara and Biafra, that is a display of knowledge deficit in international politics. One, Western Sahara is a classic case of decolonisation. It is the last remaining colony on the African continent and we all owe it a duty to ourselves to liberate Western Sahara," he said.
"In fact, as military Head of State, President Buhari was the first to recognise Western Sahara and then the rest of Africa followed. So, he is being consistent. But Biafra is for the dismemberment of the Federal Republic of Nigeria, which is already a settled entity. These two scenarios are clearly different."
Shehu also added that those who support the secession of Biafra "have not read Nigeria's history" and the issue has already been settled.
Allegations of violence
The Nigerian government has always maintained that Nigeria's unity is a priority for the country and that, although peaceful pro-Biafran protests are welcome, demanding the breakaway of the Biafran territories is against the constitution.
Pro-Biafran activists often claim Nigerian army and police open fire on "unarmed" and "peaceful" protesters. Amnesty International confirmed to IBTimes UK that Nigerian security forces had used excessive force against pro-Biafran protesters on some occasions but the army and police have denied allegations of violence.
---
Nigeria up close: Check out our Flipboard magazine
---