Bill Cosby sex allegations: Two more women accuse TV star of rape and sexual assault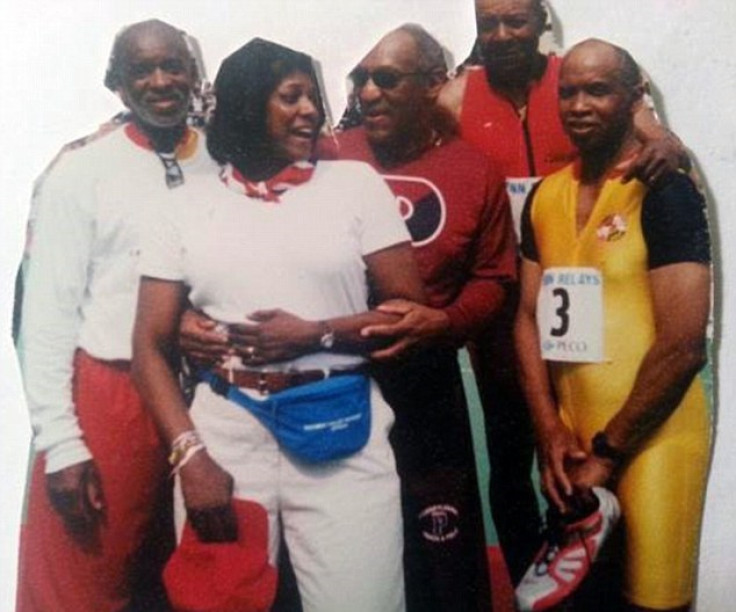 Two more women have come forward to accuse comedian Bill Cosby of sexual assault. Donna Barrett alleges that the 78-year-old molested her as they posed for a photograph with athletes at a university track meeting in 2005.
An event photographer at the University of Pennsylvania stadium gathered the group together for a photo as her teammates had finished their race.
She describes how a man suddenly grabbed her from behind and forced her into his lap as the photographer continues to take photos. The man was Bill Cosby. Recounting the alleged assault she said: "He had his arm on my waist and forcefully pulled me on to his private area, saying: 'Hey, back that thing up here girl, back it on up'. I felt his private parts against my backside. I cried out and tried to pull away from his vice-like grip on my waist."
In the photo, Cosby is seen wearing sunglasses with his arms around a woman. The pair are surrounded by athletes who appear oblivious to the alleged incident. She said she was handed the photo during another track meeting.
Mrs Barrett, who spoke up about the alleged assault at a Manhattan hotel on Friday (23 October) alongside another alleged victim of his abuse, said she had done nothing to encourage the actor's attentions. "I am a married woman and do not encourage, condone or solicit any type of attention from other men," she added.
Mail Online reports that a second accuser also alleged that she was drugged and raped by Cosby in 1984 at a New York house where she had gone for a private audition. The woman, identified only as Dottye, said she was an aspiring actress who, after missing an open audition for his sitcom The Cosby Show, approached the actor directly sending him flowers, a photograph and a resume. She said she received an invitation to audition for the star privately.
She stated that before she began her monologue he offered her a drink 'to relax' herself. She describes feeling dizzy almost immediately and she vomited. She said Cosby washed her before dressing her in a robe.
"I felt ashamed," she said. "'Things got foggy thereafter but I do know he took my clothes off and put them in his washing machine. In front of the steps was a half bathroom and to the left of the door was a chest. He leaned me against the chest, raised my robe, and raped me"' she said.
"Next Cosby took me in to the right of the bathroom into the dining room, and laid me on the floor where he continued his assault. I couldn't believe the man I respected as an actor and educator was doing this to me."
She said at the end of the ordeal he showed her the door. She then had to drive herself home to New Jersey. "I went home ashamed, hating myself for letting him have his way," she said. She revealed that she had blamed herself for the assault and had never reported it to the police.
In August, three more women came forward and accused Cosby of sexual assault, claiming the TV actor sexually abused them in the early 1970s and late 1980s after drugging them.
Cosby is accused of molesting or abusing more than 50 women over the course of four decades. Beverley Johnson and Janice Dickinson are among the celebrities to have publicly accused the star of serious sexual assault and rape.
Cosby is now the subject of two criminal investigations and several civil suits, alleging sexual abuse or defamation. Most allegations fall outside the statute of limitations. The only case so far to fall within the statutes of limitations is that of dancer Chloe Goins who alleges that Cosby drugged and sexually assaulted her at a Playboy Mansion party in 2008, when she was 18.
In August, Cosby was ordered by a California judge to finally answer questions under oath about sexual abuse allegations against him.
Cosby has admitted to extramarital affairs but denies allegations of wrong doing.
Lawyer, Gloria Allred, said she was working with even more women who had similar stories. "We will never stop until the last courageous victim who wishes to come forward has done so," she said. "There is no statute of limitations on free speech," Allred said during the conference. "A person who alleges that she or he is a victim can speak out at any time."
Although the Los Angles police are conducting a criminal investigation into one of the complaints brought against Cosby, he is not facing any criminal charges.
© Copyright IBTimes 2023. All rights reserved.