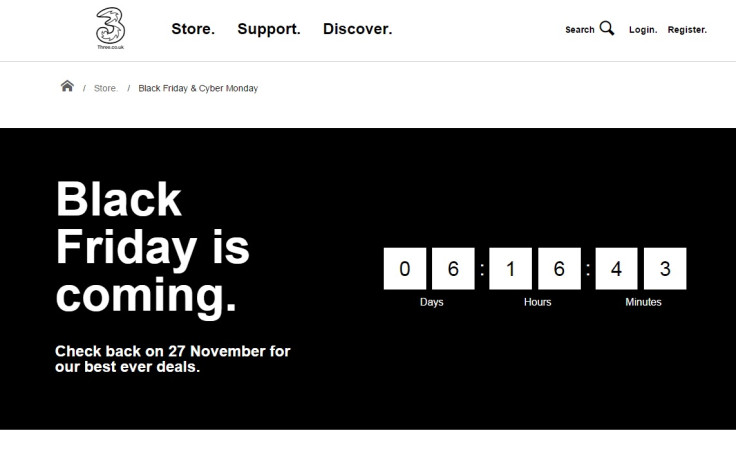 With phone and tech retailers already getting involved with Black Friday 2015, it's now time for the networks to get into the swing of things too. Three is the first to reveal what its discounts will look like when the shutters are pulled up on 27 November.
Although vague for now, IBTimes UK has been given some clues about the types of discounts we can expect to see from Three. These include a £121 saving on the Samsung Galaxy S6 Edge, £125 off the regular Galaxy S6, selfie sticks for £5.50 and a further 20% off selected items.
For more Black Friday deals and discounts, visit the IBTimes UK Black Friday hub
Imported from the US, Black Friday is an annual shopping day that falls the day after Thanksgiving. Last year, retailers caused near-chaos as thousands of bargain hunters descended on supermarkets and websites alike to grab discounted televisions, smartphones and other tech.
This year is expected to be more of the same, although some retailers are spreading their offers over the whole weekend. Others, like Asda, will not be running Black Friday promotions in-store at all, instead opting to offer deals online only.
Here is a selection of what to expect from Three, which will open its Black Friday website at 8am on 27 November.

£121 off Samsung Galaxy S6 Edge
£125 off Samsung Galaxy S6
£60 off the Moto G third generation, with Moto Maker, making it £99.99
Selfie sticks for just £5.50
Portable batteries from £10
Phone cases from £10
20% off selected accessories
Stocking fillers from just £10
Those stocking fillers include:
Up to £216 off the Samsung Galaxy Alpha
Up to £168 off the Acer E3
Up to £144 off the LG G3
Up to £72 off the Microsoft Lumia 635
IBTimes UK will update this article when we get more details on Three's Black Friday and Cyber Monday deals and discounts.